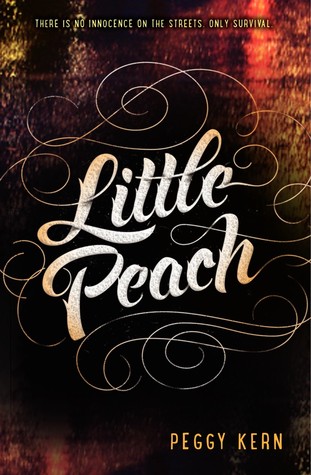 Little Peach is a very short read (just over 200 pages) but holy smokes does it pack a punch. Do not let this book cover fool you – it is an incredibly powerful and disturbing story.
Prostitution is a very, very tough topic to read about, even more so when it is happening to a young teenage girl. The MC, Michelle, is just a girl trying to be a normal teenager when she is force to uproot her life. Her mom is a drug addict that sells herself to pay for her addiction. Michelle's home situation becomes too much when one of her mom's "boyfriends" tries to make a move on Michelle. She decides to leave for New York City to live with one of her friends. Once in the big city she finds out the hard way that she doesn't know as much as she thinks she does and she is all alone. That is, until she befriends Devon, a cute boy who seems very nice and eager to help Michelle get on her feet. Devon is quick to give her food, clothing, and shelter. Little does Michelle realize this will lead to a life she did not want, a life of child prostitution.
As hard as this topic is and as graphic as some scenes in the book are, this is a really good read. I felt I could not turn the pages fast enough. I read this as a testament to human spirit and the willingness to never give up. I found myself connected immediately to Michelle, tearing up within the first 30 pages. I was invested in her journey, struggles, and battles. When I finished the book, I had to step away from things for a while and try to remind myself that there is good in this world.
I could not give this terrifying and gripping book any less than 5 stars. It is that powerful and I feel it is one of those few stories that stays with a reader for a very long time.