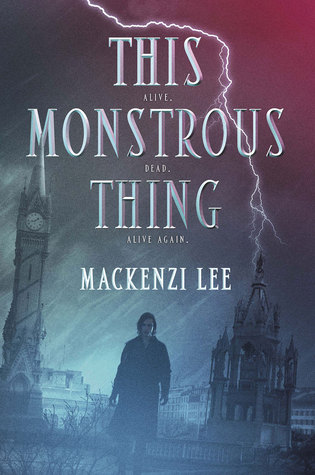 I love a good classic story retelling. Mackenzi Lee hit it out of the park when she wrote this fantastic story, weaving together history, gothic mystery, and steampunk to bring you a Steampunk Frankenstein. Don't think it will work? Trust me when I tell you that it does.
This Monstrous Thing brings to life the question people have asked for a long time – what if Frankenstein was based on a real life event? Alasdair Finch claims to be a simple man trying to help his dad in the shop where they fix mechanical things. Away from the eyes of the law, Alasdair and his father actually fix the limbs and body parts of clockwork citizens throughout Geneva. Alasdair carries so much guilt over the death of his brother, Oliver, that he does the unthinkable – he brings Oliver back from the dead. At the same time Oliver is kept from the public so he can somehow come to terms with what happened to him, rumors are starting to surface of a clockwork man that was brought back from the dead thanks to the newly published book, Frankenstein. Nobody knows who has published this story but it bears a striking resemblance to Alasdair and Oliver's life. Who wrote this book? What will happen to Alasdair and his family if the authorities find out what he has done? What lengths will Alasdair go to protect his dear brother?
The world building in this book is simply amazing. Lee did such a great job that I felt as if I was right there in Geneva, on the cold, wintry streets along with Alasdair. From the start, I felt connected to Alasdair's plight to fix as many clockwork people as he could, while trying to save his dear brother as well. I liked the relationship between the two brothers and I liked the characters, I just liked it all. My heart went out to Alasdair each time he sacrificed to save someone's elbow that did not bend right to someone's foot that had rusted. The compassion I felt for Alasdair and his mission was intense. There are some readers that would have preferred more detail about Oliver's resurrection, but the way Lee approached this was well spot on. This allowed relevant and more urgent dilemmas to be addressed.
I want to continue to gush about how much I enjoyed this, but you get the idea. I found myself quickly tearing through this book because I simply had to know what happened. The pace of the story was perfect – I was not bored nor did I feel like the story was bogged down with useless details.  I highly recommend this to everyone. Go pick up a copy so you can gush with me about how great of a debut this is.