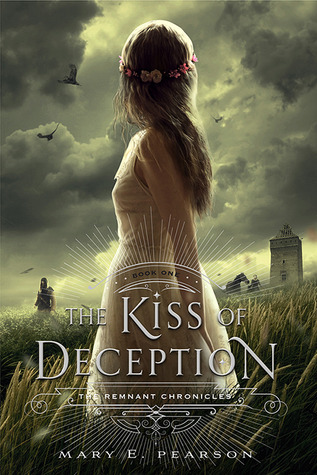 This story caught me off guard, in the best way possible. The action, the adventure, and the swoony romance found in The Kiss of Deception are perfectly melded together to create one heck of a story. I really hope the book gods forgive me for not reading this sooner. I really should have read this sooner!
Lia is raised as Princess Lia, First Daughter of the House of Morrighan. She is bound by duty and responsibility to marry a prince that she has never met, nor even laid eyes on. Lia planned to avoid getting married to a stranger by escaping with her maid, Pauline. On the day of her wedding, Lia and Pauline make their daring escape and begin their long ride to a secluded town Pauline remembers from her childhood. Lia, desperate for freedom and a new beginning, welcomes the tiny town and new chance at a simple life. Quickly Lia stars work as a bar maid, trying to blend in to the crowd. Everything changes when two handsome strangers walk into the tavern. It is obvious that both are fond of Lia, but whom will Lia choose? Soon, parts of Lia's past catch up with her and she is forced to make a decision: does she go back and face her destiny, or does she go down a different path and listen to the voice inside of her?
I was a little worried when the story started out rather slow. I struggled as the pace crawled along, I questioned if I was going to be that person who DNFd this book but thankfully the pace picked up after a few chapters. The writing was beautiful and spectacular, I found myself completely engulfed in this amazing world. I felt myself tearing through this book, finishing it before I realized it. I was able to jump right back into this brilliant story with ease.
The big thing with this story to make note of is there are three different points of view: Lia, The Assassin, and The Prince. That may sound like a lot but the multiple POVs make the story much more exciting. The interesting thing about the two male POVs is that you begin to not know who the Assassin is and who the Prince is. Since they both have grown fond of Lia, the dreaded love triangle shows its ugly face. Sadly, this love triangle becomes the focal point of the story for a while and is frustrating as there is a physical battle to show who is manlier. Regardless, I found myself connected to Lia and her journey. Moreover, I really wanted to know which man was the Assassin and which was the Prince, though I knew whom I was cheering for Lia to choose.
I am still kicking myself for not reading this sooner but at least I have the second book to jump in to so I can continue reading about Lia's journey. I highly recommend this story to everyone. I really hope everyone will give this story a chance.