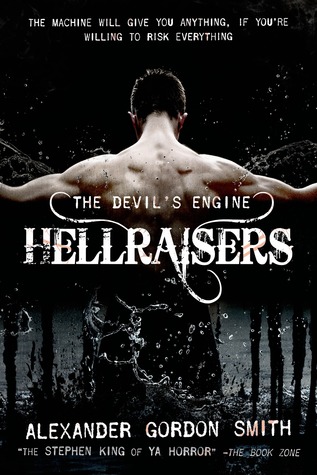 Originally published on Readingteen.net
Hellraisers is the first in a new series by Alexander Gordon Smith. This author has a talent for throwing his main characters into the thick of the story from the start. That is exactly what he does with Marlow Green, the very dysfunctional protagonist teenager. Smith quickly establishes the premise of the story within the first few pages of the book.
Everything about this book screams that will be a creepy, terrifying, and disturbing read. Unfortunately, that is where this story fell short. There is a lot of action, adventure, and people running all over the place, but it just did not feel all connected. It felt as if it was all random, none of it making any sense. I felt confused the more the story went on. I expected so much more from this story.
There were two themes throughout this novel, the main one being "Be careful what you wish for". I wish they had been more played out instead of an afterthought. I wish I knew why the author came up with these themes, presented them to the reader, yet failed to expand or deliver.
Overall, this was a somewhat enjoyable read but this first book in a new series failed to live up to my expectations. This was a 2.5 star read for me.