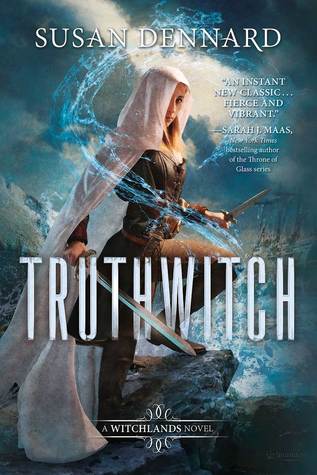 This book took me a lot longer to read than I expected. High fantasy is normally not my favorite genre but I have been determined to read more because I know I am missing out on great stories by limiting myself. This story truly lives up to the hype that has been built around it.
Truthwitch is such a fantastic adventure of two best friends who learn they are more than just their upbringing. The concept of this story is brilliant, how the focus is on friendship, not insta-love or falling in love. The thought of so many different types of witchery was a treat!
I did struggle with the names, countries, and magic. I felt there were too many people and too much world building all at once in the beginning. It felt like an info dump. I struggled with the pronunciation of names and the ability to keep everything straight. All of that caused me to read this story much, much slower than usual. I felt I had to keep a slower pace so I could try to keep people, places, and magic straight.
The ending was not what I expected, it did not have the cliffhanger as I thought it would. It almost felt as if this could be a standalone book with the way it ended but I am now waiting impatiently for the next book in the series. Regardless of my slow reading, I highly recommend this to everyone. This is a must read for anyone that loves Susan's books or anyone that wants to read a great story about magic.