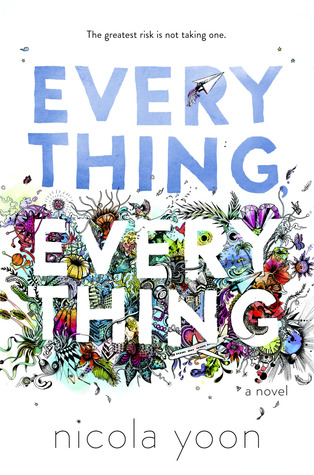 Look at that cover.
Just look at it.
I am guilty of judging a book by its cover and this is one of the best covers I have seen.
The story that goes with this cover is just as beautiful. Everything, Everything is the story of Maddy and Olly. Maddy has a very rare medical disease called SCID, a very rare immunodeficiency disorder that has her confined to her home. She is an incredibly intelligent, witty, and curious character. This is the only life Maddy has ever know and she has only mildly been curious about the outside world. All of that changed when Olly moved in next door. Everything Maddy had every known is flipped on its head and changed forever.
The characters in this story are amazingly written. I found myself so connected to Maddy and her struggle to not fall for Olly. Olly is so beautiful and sweet, regardless of the broken family he comes from. I found myself quickly cheering for both of them, secretly wishing I could just push them together. My love for these two knows no bounds.
All parts of this book are perfect. The writing is brilliant and eloquent. The doodles within the book really add to the story and give it a little something extra. Overall, this is a story of love and the lengths people will go to for true love. It also reminds you that life is mean to be lived and experienced. Please, do yourself a favor and read this NOW if you have not already.