I had the pleasure of meeting Ms. Kiera Cass while on her Siren Tour. She made a stop at Blue Willow Bookshop in Houston (WOO!). I do not think anyone was prepared for the large number of readers that would be there. Look at how many people fit into this space:
Photo courtesy of @BlueWillowBooks
Kiera talked briefly about her new stand alone, The Siren, which was her first book ever. She then opened up the floor to questions. Most of the questions, if not all of them, were about The Selection series. Readers were asking about the upcoming next release in the series, The One, and who Eadlyn would pick. Of course, Kiera did not give anything away but I can tell you that is is totally adorable in person.
When you went through the signing line, Kiera made it a point to talk to every single person and engage with them. I don't know a lot of authors that do that. She was warm, friendly, and welcoming. I wanted to sit and talk with her for hours.
Now to the review of her new book: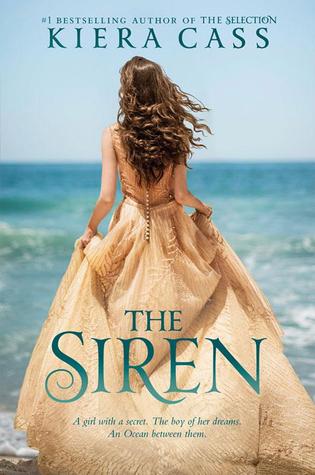 LOOK AT THE COVER. It screams, "READ ME! I'M A BEAUTIFUL STORY!" I am here to tell you that is true. This was a very heart-felt, beautiful story and it hit me right in the feels.
The Siren is the story of Kahlen who is saved from drowning by the Ocean. Kahlen agrees to serve the Ocean for 100 years as a Siren, a mythical, beautiful girl who lures people to their death in the ocean by singing a beautiful, mysterious song. Kahlen is not alone, she has her "sisters", three other Sirens that are forced to move frequently and live anonymous lives. This story begins when Kahlen has served 80 years of her 100 years to the Ocean. While living in Miami, Kahlen meets Akinli (I still do not know how to pronounce his name), a charming boy that treats Kahlen like a normal girl. He is sweet, adorable, and wants to get to know Kahlen. When she finds herself really falling for him, she knows it is time to move again. She knows that she cannot fall for a boy because she still has too many years left to serve the Ocean. She knows by the time she is released from the Ocean, Akinli will have moved on and be too old to remember her. What is Kahlen to do? Does she ignore the Ocean's rules and sneak off to see this boy that has stolen her heart, or does she find a way to ignore her heart and do what hurts her soul?
I was excited to read this story because who doesn't love a gushy contemp from Kiera Cass? I knew little to nothing about Sirens before starting this one but found it easy to follow along. Kiera did a great job of explaining the history behind them, and even weaving her own tale around them.
I really enjoyed Kahlen as a MC. I could see how she had grown up from the very beginning of the story. She grew into her duties and performed her duties better than most. All the while trying to hang on to her human emotions and reminding herself that she was still a good person. Her character seemed to come alive when she met Akinli. You immediately wanted the two of them to get together. And your heart broke when you saw Kahlen struggle with being dutiful to the Ocean and listening to her heart. I obviously won't give away anything but my feels hurt while reading this.
The reason I didn't rate this book a full 5 stars was because I felt there were parts of the story that lagged. It was a quick read, like most of Kiera's books, but I felt some parts of the story were added just to fill gaps, if that makes sense. But overall I really enjoyed this story. I found myself thinking about the book when I was not reading the book. I wanted to know what happened between these two star-crossed lovers and if they would end up together in the end. I do highly recommend this to readers that are looking for a good contemp read, or if they are looking for a  quick read.