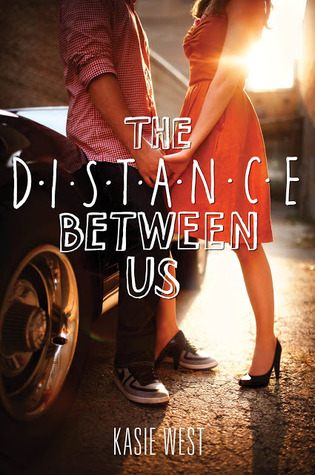 Oh, Kasie West. You really know how to write a feel good contemp, don't you?
The Distance Between Us is the story of Caymen Meyers and Xander Spence. Caymen is raised by her Mom to believe that rich people are a different class of people that want nothing to do with non-rich people. One day, Xander appears in Caymen's Mom's store to pick up an order his grandmother placed. Xander is one of those said rich people but he does want everything to do with Caymen. There is an instant connection between the two, but thankfully it is not insta-love. Caymen goes into their friendship very guarded because she has high walls around her heart and wants to protect herself from the pain that surly must come from dating someone as rich as Xander. Caymen does everything she can to hide this new relationship from her Mom because she knows her Mom will not approve. What is Caymen to do?
I cannot say enough how much I enjoyed this story. It hit me in all the right feels and put me in such a good mood. I loved Caymen's character and how she wanted to protect and help her Mom no matter what. I felt Caymen had to grow up at such an early age since she was released from the school in the afternoon to help her Mom with the store. She was smart, very responsible, and had a good head on her shoulders. That's actually a lot for a 17 year old. I had a hard time with her Mom, especially when she would give short, clipped responses to Caymen when asked about her past or finances about the business. When the big secret is revealed about Caymen's Mom, I felt she was so selfish hiding that from her daughter. In her mind I'm sure she was just trying to protect her daughter but it was wrong and every reader knows it.
The one thing I don't think was necessary for this story was the love triangle. I understand why it was there but I don't think it was needed. Henry, the lead singer of a local band, is introduced to Caymen by her best friend. Caymen already knows she isn't interested but humors Henry anyways. Part of me thinks she was unsure of how to understand her feelings for Xander, and part of me thinks it was the author trying to force a love triangle. I never liked Henry's character. To me he was creepy and sort of gross.
I'm sure I do not need to push you to read this book, or even add it to your TBR because it is already there, right? You have already read it, right? I know you have! But if you haven't, please… PLEASE go pick up this book! It is super adorable and it will honestly make you feel better. Please, go get it now.