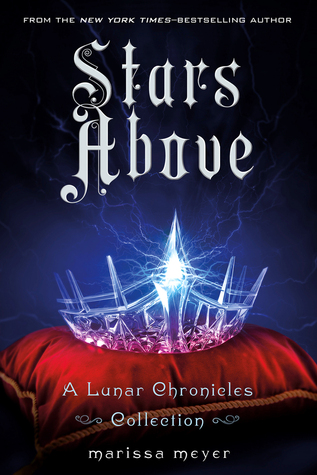 Aces, this book was exactly what I needed. I read Winter in late last year and although it was brilliantly done, this book answered some lingering questions I had.
BEWARE!!! THERE ARE SPOILERS SO ENTER AT YOUR OWN RISK.
The Keeper: 5/5.
Michelle Benoit has been a constant character I wished I knew more about. I wanted to know how she came to be the keeper of Cinder. Throughout the series If you were like me, we finally got our story and I am thrilled by it! It also tells how Scarlet came to be in her Grandmother's care. Picturing young Scarlet running around the farm was completely endearing. This short story was fantastic and heart-felt.
Glitches: 5/5.
I had not read this short story, or any of the ones that had been released to the website. They were all new adventures for me. This was the story of how Cinder came to be with Adri and the girls. My heart broke a million times over for Cinder as she struggled to fit in with her new family.
The Queen's Army: 4.5/5.
OH, Wolf. This short story is not as upbeat and light as the others, it is the darker story of how Wolf came to be with his pack and eventually Alpha. My admiration for Wolf has grown tenfold since reading this story. It was really nice to have the backstory on this character and learn more about his character.
Carswell's Guide to Being Lucky: 4.5/5.
I have missed Captain Thorne. He is one of the best characters I have read in a while. This short story was a quick but I sort of felt bored by it. It was good to read Thorne's whit and clever comebacks, but it did not feel like the Thorne I had read in the rest of The Lunar Chronicles. I liked reading about young Thorne and his family struggles, it gave great insight to some of the comments made in later stories.
After Sunshine Passes By: 5/5.
My heart… Cress. How can you not have a sweet spot in your heart for Cress?
This is the story of how Sybil placed Crescent Moon in that horrible satellite.You were able to read Cress' first reactions to the satellite. All this sweet darling ever wanted was to make people happy and fit in. My heart shattered for her. I wish I had more Cress in my life because I want her story to go on.
The Princess and the Guard: 4.5/5.
My stars, Jacin and Winter. This was an adorable story of young Winter and Jacin and how their bond/relationship formed. Also, it gave a brilliant backstory into Winter and that fateful time she saved a servant from killing herself. To read how these two grew up together and eventually into the fantastic pair they were at the end of Winter, this was a much needed and appreciated story.
The Little Android: 3/5.
I am still not sure how to really review this short story. I had no idea what it was going to be about when I started as it did not seem to follow any characters I knew. Kai was mentioned and there was an appearance by Cinder, but other than that, it was a simple story of how an android defied basic programming to save a human, a human she ends up falling in love with. The ending was beautiful but it was sort of a strange story.
The Mechanic: 5/5.
FINALLY! Finally the story of how Kai and Cinder met for the first time told from Kai's point of view! I have wanted to read this POV for so long!! I could not stop grinning throughout this entire story and was so sad when it was over.I hold a very special place in my feels for these two.
Something Old, Something New: 5/5.
YESSSSSSSSSSSSSSSSSSSSSSS! Scarlet and Wolf are getting married!! AAAAAAAAAAAHHHHHHHHH!! This story alone was magical! I loved every single word and giggled like a fool while reading it. I will admit, I did not think this would be the first couple to get married but I ship those two so hard that I was over the moon happy for them. Everyone is together on Scarlet's farm for the upcoming wedding between Scarlet and Wolf and it was fantastic to see the group back together for such a joyous event. I had tears in my eyes by the time the ceremony was over. My heart was so full of happiness that I could not have imagined a better ending to this series.