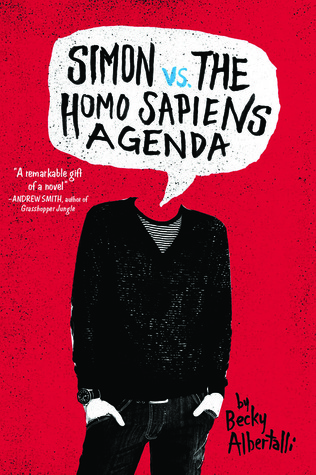 I am happy to give another update from one of my previous Books Left Unread posts! I did it! I finally read Simon vs. The Homo Sapiens Agenda and I can finally report to you lovely readers that I loved this book.
Simon is a high school junior who has done a pretty good job of keeping his personal life a secret. Simon is not ready to come out of the closet and tell the world he is gay, not yet anyways. Everything changes for Simon when the school class clown, Martin, discovers Simon's emails and threatens to expose Simon's secret if he doesn't help him. Plain and simple: Martin blackmails Simon. What does Martin want? He wants Simon help Martin get the eye of a certain girl that happens to be Simon's best friend. What lengths will Simon go to to keep his secret safe?
First thing you should know about this book: Have a package of Oreos on standby. Trust me.
Second thing you need to know: You will fall HARD for Simon and Blue. Oh goodness. The feels between Simon and Blue! I loved these characters, loved them. I was cheering for them the entire time. They are positively adorable together, even if it is mostly through emails.
I have not read a lot of LGBTQ books and if they are like Simon, then add them to my TBR right now. I loved the whit and snarkyness of Simon, actually I enjoyed all of the characters of this book – except for Martin. He was such a jerk that I could not stand him. I still despised his character even after the book was over. He had no right to do what he did.  If these characters were real, I would want to be friends with them.
As you can tell, I cannot say enough good things about this book. It took me a while to pick it up and I am kicking myself for that. My previous OTSP Secret Sister, Stefani Saloma (@stefanisaloma) sent me a copy and I am forever grateful for that! ❤ ❤ ❤
Please, go pick up this book now if you have not already.