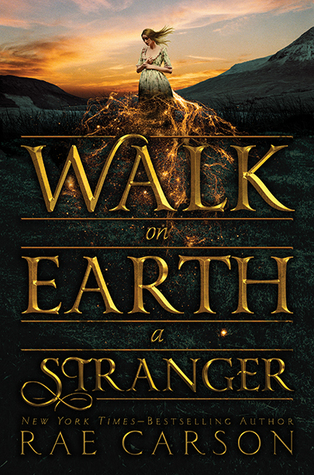 You know me by now that I am a sucker for a gorgeous cover and this ranks high on the Gorgeous Cover List! Just look at it. Amazeballs.
This is the story of Lee Westfall, a young girl with an amazingly powerful and dangerous gift. She was living in Georgia with her parents doing the best she could to help take care of her sick dad and meek mom. Her gift? She can sense gold no matter where it is – her mama's locket, buried deep in a long forgotten river bed, even under someone's fingernails. It calls to her and she can sense it deep within her veins. Suddenly, Lee comes home one day to find her parents brutally murdered. She is then forced to run for her life, run from her horrid uncle who knows of her gift and wants to use it for his own benefit. Lee is forced to shed her female appearance for that of a male and slowly make her way across the US to California in hopes of a new life.
I thoroughly enjoyed this book. I liked it far more than I really thought I would. The one complaint I have is that this book is categorized as a "fantasy" when there is not a lot of "fantasy" to it – other than Lee can sense gold. The majority of the story is historical and I was fascinated by it. It portrayed a very important time in US history, where families uprooted to head West in hopes of striking it rich. This story brought to light the hardships that were encountered along the way and just how much people sacrificed in the hopes of making it to California.
I cannot say enough good things about this book, it makes me very excited for the rest of the trilogy!  I loved Lee as a MC, she was strong, brave, and knew what she stood for. She grew along the journey and came out a better person, which must not have been easy during that period. The world-building was amazing, I felt as if I was in that era trying to make my way through all of the hazards and dangers. It was so beautifully written.
I will highly recommend this book to everyone. If you have not already read this, please, add it to your TBR now. You do not want to miss out on this adventure.