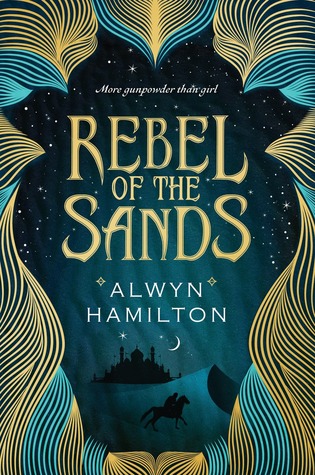 Publication Date: March 8, 2016
This book was an interesting ride. I wasn't sure what to expect other than desert and sand. What Alwyn Hamilton delivers is so much more than that.
Amani is a girl born and raised in the small desert town of Dustwalk. Her mother was hung for murdering her husband, and then raised with her large number of cousins by her dreaded uncle. Amani learned at a young age to defend herself and she became a master with a gun. Amani longs for the day she can leave Dustwalk and escape her potential future of either being one of many brides, or dead on the street. Her future seems grim until she meets Jin at a shooting contest. Jin is the mysterious handsome stranger that helps her escape a brawl and they are destined to help each other. Just when Amani believed she would never get out of Dustwalk, fates had something else in mind when she came captured a mythical horse made of dust and magic. Seizing the opportunity, Amani gallops out of town atop the back of the mythical horse and starts her road to (hopefully) a better life. What Amani learned quickly is that the desert has a magic of its own and most of the ghost stories she heard as a child about magic and terrors were true…
I will admit…. I struggled in the beginning with this book. I really did. I liked the idea of weaving two story ideas together, a little bit of a western with a little bit of magic. However, the pacing of the story early on had me bored. I was not interested in what was going on to Amani and Jin. I almost DNF'd based on that alone but I stayed with it because I hoped it would get better. Thankfully it picked up during the second half of the book when the real magical fantasy part of the story happens.
This will come at no surprise but there is a bit of a forced romance between Amani and Jin, but I never sensed any chemistry between them. Actually, I never felt any romance whatsoever throughout this story.
Overall, I enjoyed the second half of this book and am curious how the second book will play out. I truly hope it starts better than the first one.