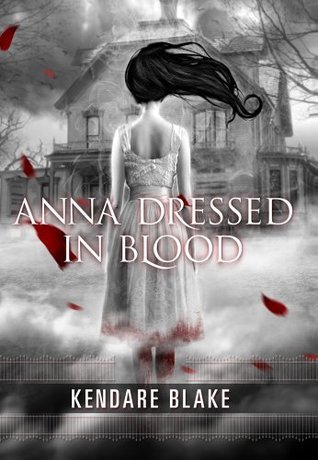 I was so excited to start this book as it had been on my TBR for a while. The cover promised I would be in for a scary, slightly terrifying ride. I'm here to tell you that if you listen to the audio book, that could not be further from the truth.
This is the story of Cas Lowood, who has the special ability to kill ghosts. This is a gift Cas inherited it from his father, until his father was murdered by a ghost in a most gruesome way. Cas makes it his life's mission to find and destroy the ghost that took his father from him. Along the way, Cas is given tips about other ghosts that are either causing a lot of trouble or so dangerous they need to be disposed. That is how Cas comes across the story of "Anna Dressed in Blood". She is supposed to have murdered 20+ teenagers over decades and will keep going until someone does something. What Cas finds when he finally tracks Anna down is a ghost that has been caught in a curse. She does not want to harm these people but has no choice, that is until Cas arrives. Cas develops a connection with Anna and they work to break Anna from her curse.
Please, I beg of you… do not listen to the audio of this book. The voices are so campy and cheesy that I almost thought this was a comedy spoof horror story. Terrible accents and whiny voices had me laughing, wondering if this was for real. Most reviews I read of this story made it seem like it was a horror story but the audio is nothing like that.
The actual girth of the story itself was really good. I liked the intention and concept behind it. I found myself wanting to know what happened to Cas, Anna, and everyone involved. I liked the suspense of what may happen next and the thrill of the hunt for the evil that killed Cas' father. I don't feel there was a lot of character development in this story so no need to worry about that. The pacing was good and it kept my attention the entire time.
Overall, I did enjoy this. I thought it was a great read (again, don't listen to it) and am curious about the next book. At least curious enough to READ the physical book.