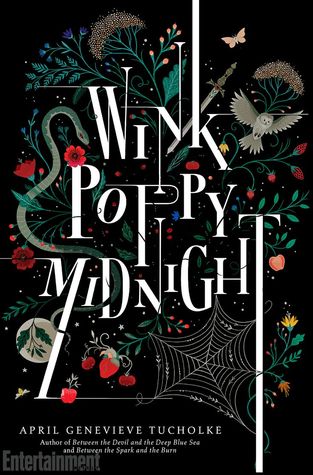 Publication Date: March 22, 2016
This book may have one of my all time favorite covers. Just take a moment to take it in.
Wink, Poppy, and Midnight are all three the focus of this deep and thought provoking story. It is more difficult than I realized to give an actual review of this story because it was so bizarre and beautiful at the same time. These characters are so complex that they will keep you reading until the very end, and then you will keep digesting what you just read long after you put the book down. They will stay with you for a while.
Wink is the quirky girl that lives with her mother and many siblings on the outskirts of town. Most people stay away from her because she is odd. Poppy is the mean girl of the school, the bully that gets away with everything because she is beautiful and charming. Midnight is the love interest for both girls. Midnight lives with his dad, who just moved them to the farm right next to Wink. Midnight and Wink become friends, and grow very close. Poppy does not like being denied anything and cannot handle rejection from Midnight so she sets out to torment Wink just to get back at Midnight. In the end, these characters end up becoming people you did not see coming.
Each chapter is told from a different point of view but they are such sharp chapters that keep you on the edge of your seat. This is a fast paced wild ride of a story. When you get to the end of the book, you will actually sit back and ask yourself, "What did I just read?". No matter what, you want to read this book. You need to read this book. You need to experience Tucholke's stories because they are amazing.