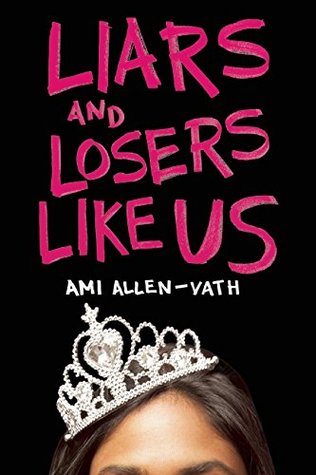 Welcome to March's Sunday Street Team! This month's feature author is Ami Allen-Vath and her new book Liars and Losers Like Us! By now I'm sure you are super excited for this book so here is some quick info on it:
Goodreads Link: Liars and Losers Like Us
Synopsis (GR):
Keep calm and make it to prom night—without a legit panic attack.
For seventeen-year-old Bree Hughes, it's easier said than done when gossip, grief, and the opportunity to fail at love are practically high-fiving her in the hallways of Belmont High.
When Bree's crush, Sean Mills, gives her his phone number, she can't even leave a voicemail without sounding like a freak. Then she's asked to be on Prom Court because Maisey Morgan, the school outcast nominated as a joke, declined. She apologizes to Maisey, but it's too late. After years of torment and an ugly secret shared with their class's cruel Pageant Queen, Maisey commits suicide. Bree is left with a lot of regret…and a revealing letter with a final request.
With Sean by her side, Bree navigates through her guilt, her parents' divorce, and all the Prom Court drama. But when a cheating-love-triangle secret hits the fan after a night of sex, drinks, and video games, she's left with new information about Sean and the class Pageant Queen. Bree must now speak up or stay silent. If she lets fear be her guide, she'll lose her first love, and head to prom to avenge the death of the school outcast—as a party of one.
I am going to give you my five favorite quotes from the book!
"You think you're better than me with your perfect life. You get to walk down the hallway without wondering if someone's going to throw something, trip you, or squeak and sing when you're with friends or walking down the hall with your little sister who only just realized you were a loser once she got into high school with you."
"What I'm saying is that I don't think you're the kind of person I could have spent a long time falling in love with. It was too easy. Just a short jump."
"Okay, what I'm trying to say is that I may not be the best choice. I couldn't even find my shoes today." I lift my dress and point to my foot, turning the toe of my sneaker on the stage. "So, yeah, this is really cool to be here, but I'm definitely not a Prom Queen."
"Let's just say that some of us try so hard pretending we're someone we're not, that we become evil bitches stepping over people that are trying to get through the day. And some people end up dying feeling like they're less than human, just because we don't care."
"You're ears drive me crazy. Drink up."
About the Author:
Ami Allen-Vath is a YA author living and writing along the shores of New Jersey. She loves great and terrible TV, ice cream, books, and vacations. Ami loathes cilantro, live birds, and when guys do cartoon impressions. Lars and Losers Like Us is her first novel.
Rafflecopter Giveaway: