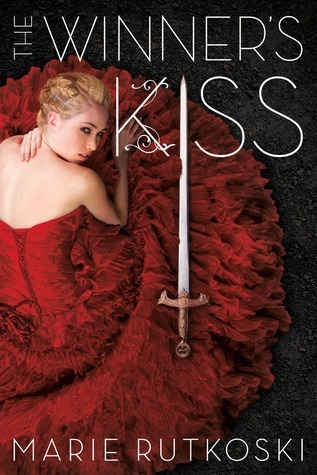 The Winner's Kiss by Marie Rutkoski
Publication Date: March 29, 2016
Originally published on Readingteen.net
IT IS TIME, EVERYONE! PREPARE YOURSELVES!
It is time for you to prepare your feels and emotions! Maybe load up on Kleenex and some chocolate as well. Marie Rutkoski has exceeded our expectations, well, mine anyways, with the PERFECT ending to the PERFECT series.
The Winner's Kiss picks up right where Winner's Crime left off – right in the middle of action and suspense. Kestrel has been sent to the work camps as punishment for her treason against the the Valorians, and Arin is fighting hard to defend the Herrani. Arin is beside himself with grief, worry, and wonder as to where Kestrel is and what really happened that caused her to be sent to the work camps. All the while, the inevitable battle between Valoria and Herrani is coming ever closer.
This story was so beautifully written. The words flowed effortlessly to tell a dynamic tale of love, loss, grief, and hope. My love for Kestrel and Arin (both separate and together) knows no bounds. Kestrel might be one of the best YA heroines ever written. She is tough, strong, brave, and brilliant. She was taught to be a thinker and that is one of her strongest gifts. I really enjoyed seeing her character grow and mature as the books went on. As she grew stronger and more confident, we were reminded that was still very much human with real emotions and feelings.
Arin… oh, my dear, sweet Arin. My heart broke for him throughout most of this series. He is such an amazing character, very deep and complex. He struggles with trying to blame himself for what happened to Kestrel while trying to understand his feelings for her. On top of that, he is the leader of the Herrani people and knows he must defend his people against the Valorians.  So much pressure!
The plot line for this book was amazing. It did not ever slow down, nor did it ever lag. I was on the edge of my seat the entire time wondering, "Are they going to get together?! What is going to happen?! Will Arin learn he is not the cause for Kestrel going to the work camp? AAAHH!" Every question was answered and then some, nothing was left for me to wonder about. Marie did the most amazing job of wrapping this up in the prettiest package ever. If I could give this book more than 5 stars, I would. It deserves all of the stars in the sky. Everyone needs to get their hands on this book, check it out from the library, pre-order it, borrow from a friend (if you have a friend that will lend you the book!) and read it today. Then let me know you read it and we can gush over it together.