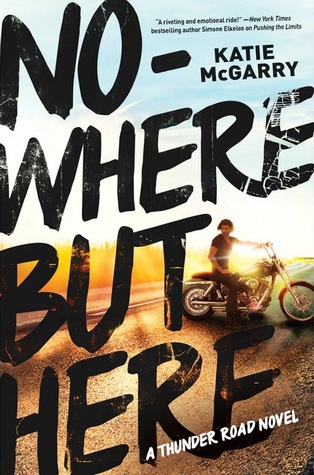 Picture this: you are strolling through a book store, one that resells books at a deeply discounted price, not sure if you are going to find anything worth your money. That is when you spot it – on the shelf, sitting there bold as brass, is the first book in Katie McGarry's new series. You are not one hundred percent sure what the book is about but you have heard enough from other book lovers that this book, this book right here, is one that you must buy. I'm here to tell you today, those people are RIGHT. This book destroyed my feels. DESTROYED. THEM. I have not had a book hangover like this in a while but I am not going to complain about it. I loved every minute of this book.
17 year old Emily is the daughter of Eli, one of the main men of the Reign of Terror, a motorcycle club in Snowflake, Kentucky. Emily knows that Eli is her biological father but only knows what her mother has told her about him, none of it was positive. When Emily has to spend the summer with Eli, she sets out to uncover the mystery that surrounds what really happened between her parents. Emily is written so incredibly well. She starts out meek and innocent, having never been in a world that is like Terror's everyday. Emily has her own fears, most of them legit, but she grows and develops throughout this story and it is refreshing to see.
Oz was born and raised in the family that is Terror. Oz wants nothing more than to be a full fledged member of Terror. That is why he does not bat an eye when Eli asks Oz to become Emily's bodyguard while she is in Snowflake. Oz is to be her second shadow, protecting her from everything and everyone. Oz's character is so deeply complex that I could not get enough of him. He constantly battled with what he thought he should do verses what really needed to be done was amazing. I loved the internal struggle he faced. His development throughout the story, as well, was brilliantly done.
The other character that stood out to me and demanded attention was Olivia. I wish I had a grandmother like her! HA! What a spitfire of a character. Do not let her fool you, Olivia will grab your heart and never let go.
The chemistry between Emily and Oz was FIRE. It takes a lot to make me blush but these two made that happen. I could not get enough of them together. I can tell you that I'm not one to jump on the OTP bandwagon but I have now and these two are on the top of that list.
I feel one reason I connected with the characters as much as I did is that I was raised in the textbook definition of a small town (mine was 6 blocks long, with no stop lights). One underlining message I found throughout this entire story was that people need to stop judging others without knowing the entire story. I was judged hard during my teenage years based on what others thought they knew of me. My heart goes out to anyone that has to go through or gone through that. Oz's character, and every other member of Terror, went through that,always battling the rumors and whispers from people who truly thought they were better than everyone else. I have zero tolerance for people like that.
Overall, I cannot say enough good things about this book. It hooked me from the beginning and never let me go. I knew it was going to be one for my top lists of 2016 when I couldn't stop thinking about it while I wasn't reading it. Anytime I had to put the book down, I immediately twitched until I could pick it up again. It was full of suspense, mystery, and delicious tension between Oz & Emily, and more! I will shout from the roof tops that everyone needs to read this book and prepare for the next book that drops March 29th.