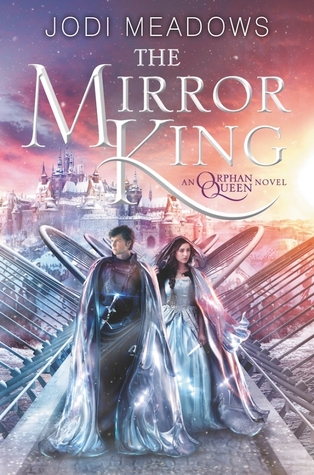 The Mirror King by Jodi Meadows
Publication Date: April 5, 2016
Originally published on Readingteen.net
SPOILERS! BEWARE!
After reading the disappointment that was The Orphan Queen, I pondered if I should even start this one. I battled with myself for about a day before I decided I would solider through and see if the duology got any better. It did… and it didn't.
Mirror King picked up right where Orphan Queen left off. Wil is in serious danger because she gave away her ability to use magic and everyone knows who she truly is; the prince had just been shot; the identity of The Black Knife has been revealed. Wil has to decide what to do as the wraith comes closer every day as she cannot protect everyone in both kingdoms. She also has to decide if she must follow her heart or follow her destiny.
I was torn with this story. I wanted to stop reading so many times but something kept pushing me to finish. Not so sure it was the best idea as I felt it was only slightly better than the first book. It was just not everything I was hoping for. I wanted something to WOW me but that never happened. The plot felt as if it was lacking. It did have some surprises, but not enough to really knock me off of my seat. The plot was also painfully slow. Nothing picked up speed until almost 80% through the book and by then I was so invested with this story I had to finish.The ending was okay but again that was it.
I also did not like how this book was far more political than the first book. I did not care to read about that, I wanted to read about the romance, the magic, the fantasy side of this book – all of which were lacking. I did not feel the characters truly developed throughout the entire story. Wil was still very narrow minded and rather arrogant.
Overall, I do not think this book was for me. I know that so many other people have raved and screamed from the rooftops how much they adored this series but I am the exact opposite. I am the black sheep of this series. It was less than okay for me and I'm not sorry I read it, I want that to be known. I just did not feel the excitement that everyone else felt. Since I liked this book slightly more than Orphan Queen, I gave this 2.5 stars.