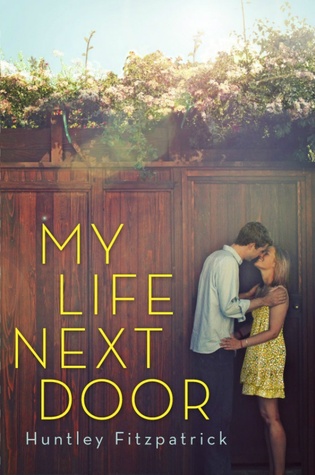 I adore this book. It is the first Huntley Fitzpatrick book I have read and it was a fantastic recommendation. I know I am late to the game with this one, but it has stayed with me and I cannot let it (or Jase!) go.
In this story, we meeting two VERY different families: The Garretts and The Reeds. Our protagonist is Samantha Reed, the daughter of a State Senator. Samantha is the typical teenage daughter of a comfortable up-bringing, she has good grades, top in her class, says and does all of the right things. She and her sister never wanted for anything as their mom has a large trust fund. These two girls grew up with a single parent who happens to have a very strong opinion about large families. Enter The Garrets.  The Garrets have eight children. They are loud, messy, the yard is always cluttered and rarely ever cut. Samantha cannot help but be intrigued by her lively next door neighbors. She loves their energy and their freedom to be happy. Samantha strikes up an innocent friendship with the third eldest child, Jase. He turns her world upside down and they soon become inseparable. Just when Samantha thinks her life is perfect, the unthinkable happens and she has to decide if she can keep a secret, or hurt those that matter the most to her.
I enjoyed nearly everything about this story. Both families are so dynamic. You could sense there was true love from the parents to the children in both families, even though they each have their own version of showing love and affection. As much as I wanted to slap Samantha's mother, I sort of felt bad for her. She did the best she could even though she needed serious mental help. I loved the openness of emotions and communication in the Garrett's family and wanted to be a member in that family.
It is safe to say that I could not stand Clay (who really likes him?!). I would happily throw him off of a cliff and walk away with no guilt. That character was written perfectly to be a sleaze. The way he is able to manipulate Grace was brilliantly done. It gave a new depth to the story that made me want to find out what happened.
The romance between Jase and Samantha was positively amazing! I was cheering for them the entire time. It is one of the most realistic relationships I have read. I couldn't get enough of those two. They both felt like honest characters – both doubting whether they were good enough for the other while both being completely perfect for each other.
The ending was slight vague and you could tell that Fitzpatrick tried to wrap everything up with a pretty bow, but it seemed as if it was missing something. Maybe it just felt rushed to me. I wanted to find out what happened to the Garrett's parents, but that was never covered.
Overall, I truly enjoyed this book. I could not get enough and tore through the story. Fitzpatrick has gained another life long reader after this delightful book.