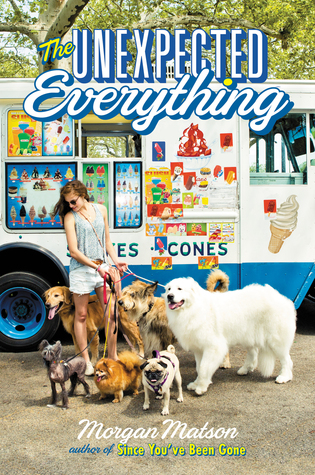 The Unexpected Everything by Morgan Matson
Publication Date: May 2016
Morgan Matson has done it again. If you are expecting a fantastic, heart warming, tender story that will hit you in the right feels, then you are in for a treat!
The Unexpected Everything is the story of Andie, the daughter of a congressman who has her life all planned out. She has been raised in front of the cameras, groomed from a very young age to know exactly what to say, how to act, and what to wear. She even has the perfect friends. Things could not be any more perfect for her until her father's office is involved in a potential scandal and comes under investigation. While the investigation is going on, Andie's father is actually spending his time at home, which is not so ideal for either. On screen, Andie and her father have the perfect relationship, but off camera, they are more like complete strangers. Andie had the perfect summer planned with the perfect internship, which would get her into the perfect college, and it all falls apart. Along the way, she meets Clark, the handsome, mysterious new boy that moved into town and has caused Andie to rethink her three-week max policy of dating. Will Andie be able to get her life back on track after everything she planned has fallen apart? Will she be able to deal with the unexpected things life has in store for her?
This may be a huge book but it is worth your time. It is a quick read and you will not realize you have nearly 500 pages in front of you. I did not like Andie's character at first, I will be honest. She came across as a spoiled brat who got away with everything because her mom has passed away and her dad was always gone because he was in the public spotlight. Thankfully Matson did an amazing job of developing Andie throughout the story to grow and actually grow up. I liked seeing Andie struggle with trying to make sense of the her like being turned upside down because it made her more relatable.
Clark is the yummy, delicious boy that is actually a shy nerd and he is perfect. The way he challenged Andie and her friends was great. My heart did break for him as his story was told. You could really tell he was hurting and had some skeletons in his closet. I wanted to give him a hug and tell him everything would be okay.
I do feel there may be a few too many characters in the story. I know that sounds crazy but Andie has a huge group of friends that she relied heavily on and trying to keep their stories straight gave me a slight headache. There were times I struggled to remember who was who and what role they played in Andie's life.
Overall, yes, I adored this story. Matson did a fantastic job of telling a story that reminds the reader that family and being true to yourself is still so very important. That even though you may think you have life figured out, you better be read for whatever curve balls are thrown your way.