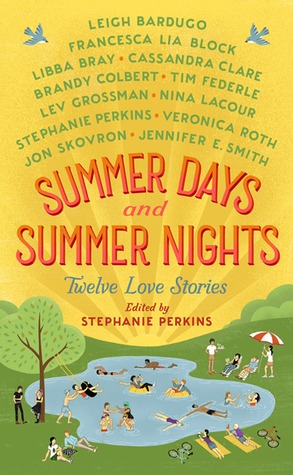 Publication Date: May 17, 2016
How does one properly review a book as brilliant and lovely as Summer Days and Summer Nights edited by Stephanie Perkins? I know I should probably review each story and give you a rating, but you already know they all will be amazing, right? And after each story, you will turn to the cover to try to find out where those characters are. I know I did!
I had not read a book filled with twelve short stories before, it felt different. I felt that as soon as the story was ramping up, it was over. Such is the life of a short story, yes?
Here are individual ratings:
Head, Scales, Tongue, Tale by Leigh Bardugo – 4.5/5
The End of Love by Nina Lacour – 2/5
Last Night at the Cinegore by Libba Bray – 3.5/5
Sick Pleasures: For A and U by Francesca Lia Block – 1/5
In Ninety Minutes, Turn North by Stephanie Perkins – 4.5/5
Souvenirs by Tim Federle – 4/5
Inertia by Veronica Roth – 3/5
Love Is The Last Resort by Jon Skovron – 3/5
Good Luck and Farewell by Brandy Colbert – 3/5
Brand New Attraction by Cassandra Clare – 2.5/5
A Thousand Ways This Could All Go Wrong by Jennifer E. Smith – 4.5/5
The Map of Tiny Perfect Things by Lev Grossman – 4.5/5
I highly recommend this to everyone! Most of the stories are super sweet feel good lovely stories and I hope everyone gets to experience them. If this is not already on your TBR or pre-ordered, it needs to be added now!