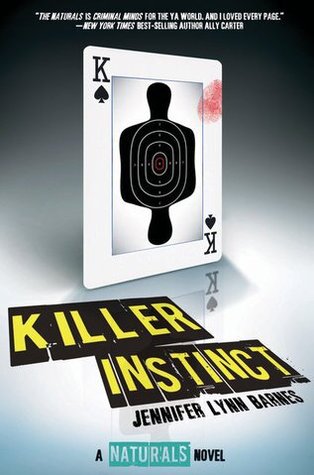 I listened to an audio of the first book and immediately became hooked on this series. This is such a fast paced "Who Dun It?!" story that I couldn't turn the pages fast enough.
After barely escaping from the killer that was obsessed with her mother, seventeen year old Cassie is trying to put her life back together and get back to what she knows to be normal. She is a profiler and the FBI is putting her talents to work helping to solve cold cases from a distance. She, along with four other teens, are part of a secret FBI group called Naturals. Each teen has their own special talent – a lie detector (Lia), another profiler (Dean), an emotion reader (Michael), and a super smart stats/numbers person (Sloane) – and together they are one heck of a unique team.  Everything turns upside down when new victims appear that appear to be murdered exactly how Dean's father killed his victims. The problem is that Dean's dad is serial killer that is currently behind bars for his crimes. In the hopes of solving the case, Dean is forced to confront his father, a person he would rather forget, and put himself into the mind of this psychopath killer.
If you have read these books, you know that Barnes is amazing at sucking the reader in and never letting go, even after the book is done. I loved nearly every minute of this book. I love how the characters continue to develop and grow, how the plots become more advanced and complex, and how it is a wild roller coaster of a ride. Not once did I find myself bored flipping the pages. I was invested and just had to know what happened next. So much so that I read it every chance I got, even into the wee hours of the night.
There is one small part of this book I could have done without – the dreaded love triangle. This story would have been perfection without it. Cassie has feelings for both Michael and Dean, though she feels she has to choose one at the end of the book. Personally, I love the chemistry between Dean and Cassie so I will be cheering them on the entire time. I do enjoy Michael's character, but I see him more with Lia. One character I hope Barnes' expands upon is Sloane. She is such a quirky character that I just want to be her friend.
This book had some really dark moments, but they were oh so good. This was such a thrilling mystery that I feel I have been waiting for a page turner like this. Please, if you have not picked up this series yet, please do. You will not be disappointed.