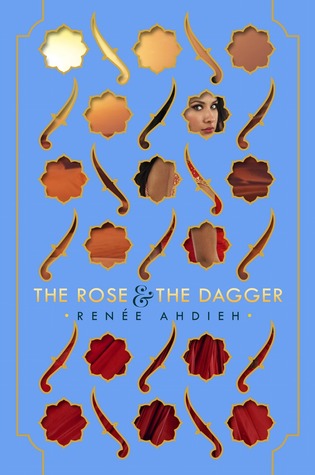 Publication Date: April 26, 2016
Let me start by saying how much I love this cover. It is one of the prettiest covers I have seen! Second, I have been wanting this story ever since I read the end of The Wrath and The Dawn last year. Renee Ahdieh has a beautiful way with words and it continues in this book, it was simply beautiful and just want I wanted to read.
The Rose and The Dagger pick up right where The Wrath and The Dawn ends. Shahrzad is torn from her husband, Khalid, and reunited with her family. Shahrzad realizes that her family are among a refugee camp where her childhood love, Tariq, is leading the forces that are trying to bring down Khalid's empire. Shahrzad also discovers that her father is involved with some magic he does not understand, and it has started to unlock hidden magic within her. Shahrzad has devised a plan that will hopefully save her family and reunite her with her true love, Khalid. Will she be able to save everyone she cares about and save the kingdom?
I listened to the audio version of this book and immediately fell in love with the words Ahdieh had written. I felt most of this book was completely quotable and utterly beautiful. It was great to see the world Ahdieh had created actually expand into so much more. There was so much more magic in this story and I loved it! Obviously not just magic, but family, love, betrayal, and more.
I felt the struggle Shahrzad had with trying to make everyone happy and keep everything together in her life. It felt as if she did more to try to keep the peace, sacrificing her own happiness. All she wanted was to be with the man she loved while still keeping her family. That struggle had to wear her out because it wore me out.
The imagery within this book was beyond words amazing. The one issue I have with the entire story is that it felt as if the pacing was too fast all of the time. There was action on every page but it almost felt like it was too much. I don't want it to slow to a crawl, but I would have like to not feel like I was in a constant state of alert while reading.
Don't get me wrong, I simply loved this story. It was beautiful and everything I wanted in a sequel! I implore everyone to get this book if they have not already. I mentioned that I listened to the audio version of this book and it was so well done, I could not have asked for a better narrator. She did a great job of bringing Shahrzad to life. I don't care if you get the physical, ebook, or audio, please… just read this story and join me in fangirling.