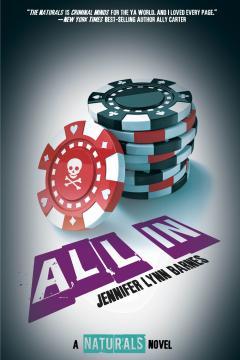 BARNES DID IT AGAIN. This book hit it out of the park! I simply love complex stories like this! The nerd in me is so happy with this book.
There have been three murders in three days, all at three different casinos in Las Vegas. Cassie Hobbes, having just survived another kidnapping with Agent Sterling, is once again trying to put herself back together when these murders start happening. Cassie and the team of Naturals are flown to Vegas to start work on a real active FBI case. This proves to be their most complex case yet as Sloane steps up to find patterns in dates, locations, and victims that nobody else could have possibly picked up on. At the same time the Vegas murders are taking place, new evidence has surfaced about Cassie's mother that may answer the question as to what happened to her so many years ago.
The development of the entire Naturals team over the course of the series has been a delight to see. Cassie, Michael, Dean, Lia, and Sloane have all grown up and become their own person. You can tell that they have all learned how to be there for each other and how to put their own issues aside to help the others. Cassie is still the protagonist of the series, but shares the spotlight with her fellow Naturals. At the beginning of the story, new potential evidence is discovered that may solve what happened to Cassie's mom. The reader does wonder if the body found is really her mother but it is not the focal point of the story and that is refreshing.
We finally get to learn more about Sloane and how she was raised. I enjoyed how Sloane was brought from the shadows into the light. She has been one of my favorite characters. The way her mind works is amazing. While in Las Vegas she is brought face to face with the father that never wanted her and the half-brother she never knew. To finally learn how much she wanted nothing more than her family to like her broke my heart.
A little more about Lia is revealed and it makes me want to know more about her! I really hope the next book will be more about her. She is such a fascinating character that I love to read about. She is a tough character to read at times because of her honesty but that is what makes her amazing.
The murders throughout the book are brilliantly done. They reminded me of Dan Brown books, so baffling and perfectly complex. I wanted to know how all of the victims tied together and how the killer developed the pattern to kill them. I read the physical copy of this book but if the audio had been available, I would have devoured it. The audio books are just as great as the physical books. Since I finished this story in no time, I am so sad that I have to wait until November for the next book. I need this one like a week ago.