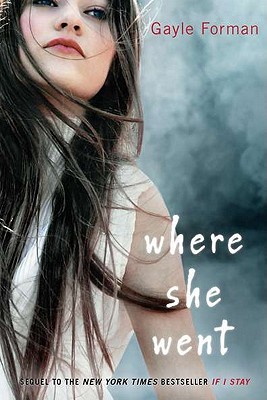 After finishing If I Stay, I felt I couldn't get my hands on the second book in this series fast enough. I loved the first book and I loved the second one.
This story takes place three years after Mia's accident, where she walked out on her now ex-boyfriend, Adam. Both Mia and Adam are living separate lives on opposite sides of the US. Mia is a a quickly rising start at Julliard, while Adam is a so-so musician with a celebrity girlfriend. Their paths cross while both in New York and Adam attends one of Mia's performances. Fate has brought these two back together for a short amount of time and they take advantage of it. Mia spends the night taking Adam to her favorite places in New York. This gives them both the opportunity to really talk about what happened three years ago. Will they be able to forgive each other and be a part of each other's lives again?
This story is told from Adam's POV and it was amazing. I loved hearing his thoughts, words, and emotions about what happened. I loved how these two were struggling and relearning how to talk to each other. The growth of the characters from the first book to this book is beyond words. They had grown and developed so much that I felt I was getting to know them all over again.
I am not afraid to admit that this book made me ugly cry. I really liked If I Stay, but this book is actually better. The amount of raw and powerful emotion held within the pages of the small book is almost too much. I could not put this book down, in fact I did not want to put this book down. I did not want this story to end at all. I wanted to stay within the Mia and Adam world and hang out with them forever.
Please. I beg you, if you have not read this book, pick it up now. I am kicking myself for not getting to this series sooner.