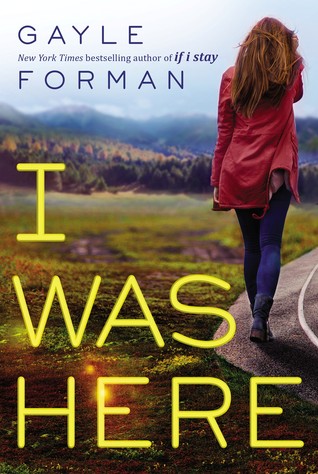 After tearing through the If I Stay, I could not wait to read I Was Here. It was high on my TBR after ugly crying at Mia and Adam. I wish I had been more prepared for this one as it hit me from left field.
This is the story of Cody and Meg, two best friends that were completely inseparable until the day Meg took her own life with an industrial strength cleaning solution. Cody was floored when she found out the news. How could her best friend kill herself without reaching out to her? That's when Cody received an email from Meg, after she died. Who could have sent this email? Was someone playing a joke on her? Cody decides she needs to find out what happened to her once best friend and what caused her to end her own life.
When I say this story is sad and depressing, I am not stretching that. I knew Gayle Forman had a powerful writing style, I just was not prepared emotionally for a story of this nature. Stories on suicide are never easy. Forman still wrote a beautiful story with complex characters
There were a couple of things that really bothered me about this book:
1) While investigating into Meg's life, Cody's approach to Meg's "mentor" was probably the stupidest thing I have read. A normal person with any rational thought would not have done that. There was no common sense used at all and that bothered me.
2) WHY did there have to be a love interest and some type of romance in the middle of this book? It felt so out of place and unnecessary. I found myself cringing while reading about Cody's romantic interest in Ben, the guy who was also involved with Meg. There are rules about stuff like that but Cody did whatever she wanted. That leads back to the 'no common sense' statement.
After reading so many of Forman's books now, I find myself a fan of her work. Not so much this particular story, but I know I will buy whatever she publishes next. Be warned if you have not read this one, it handles very tough topics and has some rather uncomfortable moments. I want to recommend it to people but I found myself questioning why I continued to read it. As I mentioned, there were parts that felt incredibly unnecessary.