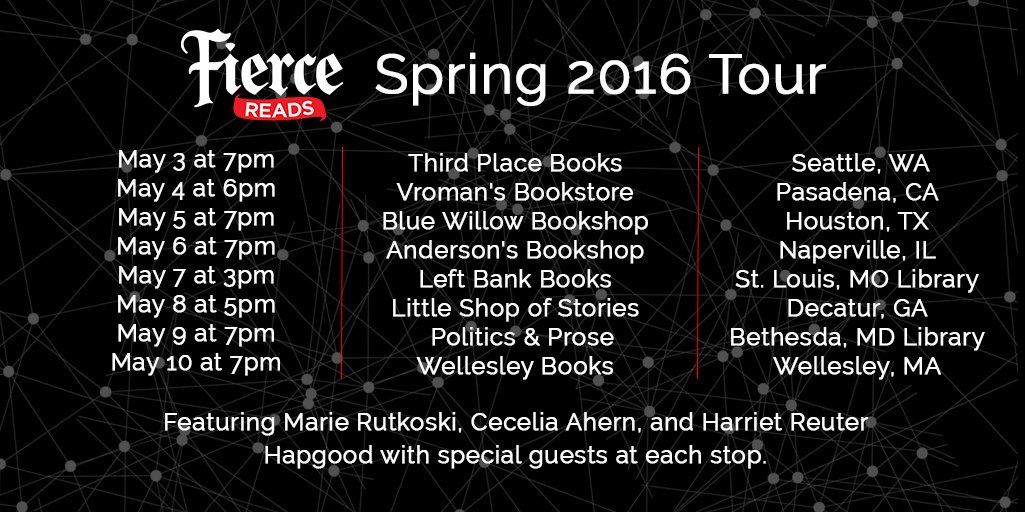 Last night the Fierce Reads tour stopped in Houston and was hosted at my favorite Indie book store – BlueWillow Bookshop. I have been beyond excited for this tour since it was announced and could not believe they would actually come through Houston. Jennifer Mathier was the special guest at the Houston stop. I adore all of these authors but I will admit that I was most excited to finally meet Cecelia Ahern! I have been a fan of hers from the very beginning. *insert fangirling here*
I was SO over the moon to walk to the store and see this outside:
I tried to get to the store early because I had a feeling it would be a packed house and I was not wrong. Anyone that knows Houston traffic knows that when you have to be somewhere, traffic will be 10x worse than normal just because.
While waiting for the lovely ladies to start, I spotted a basket of Jennifer Mathieu's upcoming release – Afterward! These ARCs were being given away at the end of the event. They are so pretty….
Shortly after I took this photo, the ladies came out to a warm welcome and we started. They all were amazing answering questions and giving us a chance to learn more about them. Things I learned:
Cecelia has 13 published books, but Flawed is her first YA book. The second in the series, Perfect, comes out next year. And she has begged Marie to write her a proper love story involving Kestrel and Arin. (no argument there)
Marie loooooooooooooves a slow burn in books.
Harriett *loves* 90s US teen dramas such as Veronica Mars, Dawson's Creek, My So-Called-Life, and more.
Jennifer is working on her fourth book due out in 2017 and has an obsession with the Duggars. 🙂
The conversations were amazing, many laughs were shared, and I cannot express enough thanks to them for spending their night with us and to Fierce Reads for organizing the tour. Look at these awesome authors!
Soon the signings started and who isn't excited about that?? The first author I met to sign was Marie Rutkoski and she is just as lovely as ever. I tried so hard not to lose my cool when she said, "You look very familiar. I know I have met you before." Who doesn't love to hear that from an author?! I did my best to remain calm and talk about how we first met at the RT Convention last year in Dallas and our experiences at the recent NTTBF. We swapped stories and it was just awesome.
Next was Cecelia Ahern and Harriet Reuter Hopgood – these two are just precious! I want to fold them up and carry them with me in my pocket. I am afraid I may have scared Cecelia when I placed nearly her entire published book library in front of her to sign. I had 9 of her 13 books with me and I wasn't sure when I would ever get to meet her again so I was not missing out on this opportunity. ❤
At the end of the night, this is what I came home with – all signed and prettier than ever. I even won a copy of Jennifer's upcoming release, Afterward!! SO excited! And yes, that is a Fierce Reads Coloring Book! I didn't know they existed until last night and I wish I had grabbed more.
If this tour comes through your town, I really hope you have the chance to go. It was so much fun and I loved meeting these authors. They are more amazing than I can properly describe and I am very thankful events like this happen near me. It is such a great experience.
EDIT: I forgot to mention that after tweeting the above photo to Fierce Reads, and thanking the authors for coming through Houston, I woke up to a very sweet Tweet from Jennifer and Cecelia. I swear it seriously made my year:
NOW I am going to go fangirl.