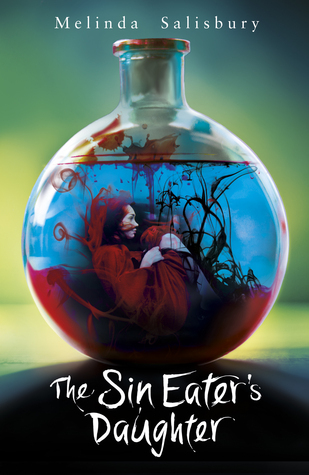 Before I being, let us take a moment to appreciate the cover. The cover is one of the most amazing and mesmerizing covers I have seen in a while. This book captured my attention from the beginning and never let go.
This is the story of Twylla, a girl that has been blessed and chosen to marry the prince of the kingdom. Twylla's a Daunen Embodied, the incarnation of the daughter of two Gods, the ultimate death. Twylla serves the royal family as the Queen as raised her as her own daughter. Twylla was born to a Sin Eater, a person who eats the sins of people that have died so they may pass into the next life clean. Shortly after it is announced that Twylla will marry the prince so the throne will stay in the royal bloodline, lies are uncovered and truths are discovered. Twylla starts to question everything she was raised to believe. What is the truth? What can she believe?
If you want to read a book with completely complex characters, this one is for you. I was amazed at how I was not able to see the end game of these characters – especially the Queen. Now she is one serious villain. The things she is willing to put people through in order to get what she wants is downright scandalous. Twylla almost made me mad at times because she felt too gullible. She believed every single thing that was told to her until the truth basically slapped her in the face. The one character I never liked from the start was Lief. If you read the story, you know why he's a hot mess and not in a good way. He never should have been trusted. As for Merek, he is a spoiled prince but he is raised to be that way. I want to trust him but I don't.
This book was so beautifully written. I fell in love with Salisbury's writing, the words seemed to dance on the pages. The world building was amazing and it did this high fantasy justice. I usually have a difficult time with high fantasy but I didn't with this one. I devoured this book and found myself begging to read the next book. I simply had to know what was going on with the Queen and her wicked plans. I fell for this story hook, line, and sinker.
I cannot say it enough times – this book was better than I thought it would be and I believe everyone should read it. I hope everyone gives this a chance. I am glad I did and now I am tearing through the next book in the series. Salisbury's writing has swept me away and I am grateful for it.