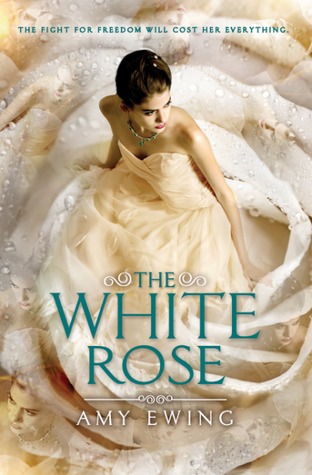 It has been a while since I have picked up the second book in a series and found it to be better than the first. While I enjoyed The Jewel, I found myself liking The White Rose so much more.
This story picks up with Violet, aka Lot #197, aka the former property of The Dutchess of The Lake, on the run with the house's former companion, Ash. and her best friend, Raven. They are running for their lives as they have discovered that the girls bought and sold at auction as surrogates end up dying either while pregnant or during childbirth. Violet knows she must do something, everything within her power, to bring the royal families down, but what? That is when Violet stumbles into the middle of a rebellion she didn't know what brewing. She finds out that the Auguries she was taught to develop are much, much more powerful than she was lead to believe. She now knows what she needs to do, but is she willing to risk everything and everyone she loves to do it?
I enjoyed the first book, no question, but this book seemed so much more developed and thought out than the first. I was blown away but how quickly involved with the story I became. I loved the fantasy side of the story and how it played a bigger part in the story. The characters were better, I didn't want to slap every single one of them (only a few, but that has to be normal).
I felt Violet finally grew into her character and owned it. Thank goodness for that. She became the strong protagonist that was needed for this series to be everything I hoped it could be. I did not care too much for the love interest as I didn't feel it was believable, but thankfully it did not overpower the story so that's okay. I gave it a pass this time.
Now let's talk about Raven. I adored her character. I was cheering for her from the first story. She was beautifully dark and mentally messed up that she became one of my favorite characters. I loved her innocence and honesty. That is exactly what was needed, not a gaggle of screaming, bitching teenage girls. Raven is my homie now.
Ash… yeah, he and another boy were there but I did not swoon over any of the male characters in this story. I'm weird that way but I was in this for the fantasy, the mystery, the tension of "what is going to happen?!". The villains within the story are so evil and horribly corrupt that it actually felt like a battle of good vs. evil. So awesome and amazing. It hit all of the right feels with me.
I waited months to "borrow" this book from my library app, then promptly finished it in one day. I have no regrets and would do it again. I hope I can do it again with the third book. I know the final book does come out until Fall 2016, but I want it in my grabby hands right now. I want to know how this all ends… right now.