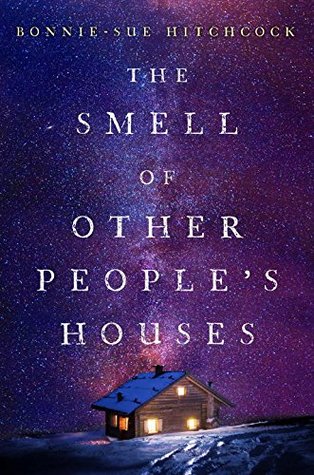 Do not let this cover fool you. It looks unassuming and as if it will never hurt you but that is not true. It is a short read but it will burrow its way into your heart and tear you apart.
This story is narrated from four different teenagers in 1970s Alaska: Ruth, Alyce, Hank, and Dora. Each teen is going through something dark and troublesome and yet their lives all seem to intersect in unusual ways. Ruth and her young sister have been living with their very strict grandmother ever since their dad passed and Ruth's mom went crazy. Ruth is also hiding a secret that cannot stay hidden for very long. Dora really wants nothing more than to get away from her abusive father and the constant fights her parents have. Alyce spends her days dreaming of being a professional dancer, not helping her dad on a fishing boat. She wishes more than anything that she could go after her dreams but she fears she will not be able to escape the responsibilities of the family business. Then there is Hank. Hank and his two younger brothers run away from their current home situation because they know it has to be better than what they are going through. As the story continues, these characters lives intertwine in such amazing ways.
When this story started, I was not sure what I was listening to as Ruth started talking about the smell of cedar and what it reminded her of. For just a split second I thought that was odd and that I may not continue the story but as the story progressed, each character and their stories got better and better. I quickly found myself completely involved in what they were going through. I felt as if I wanted to jump into the story and save them all myself. I wanted to save Dora from her abusive father and her worthless mother. I wanted to help Ruth deal with her overbearing Grandmother. I wanted to help Hank and brothers escape a life of misery. The one character I did not completely connect with was Alyce and that might be because her story didn't connect with me like the others did.
Each character was so beautifully written that I cannot find negatives to write about them. In fact, about the only negative thing about the entire book I can really think of is that it was too short. I wanted more from these characters, I wanted more time in their lives. I wanted to know what happened after. After the resolutions happened, then what?
This is going to be one of the more positive reviews I write this year. This book was simply amazing and I hope everyone gives it a chance. It is a quick read but it is a powerful read. Please, I beg you, please pick up this book. Even if you borrow the audio from the library, give this book your time. You won't regret it.