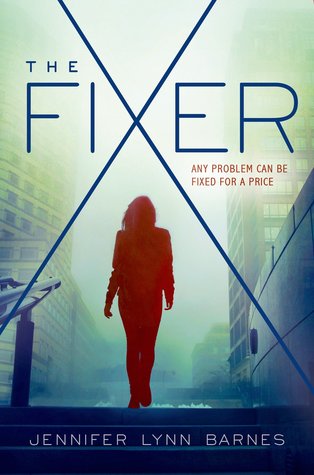 When I picked up this book, I originally thought, "Another Jennifer Lynn Barnes book! This is going to be awesome!" Yeah, it wasn't. Not for me, at least.
This is the story of 16 year old Tess Kendrick and how her life became something she never imagined when her estranged sister, Ivy, takes her from her grandfather's ranch to live with her in D.C. Tess quickly learns at Hardwicke Academy school that nearly everyone knows and is scared of Ivy Kendrick. Ivy is known as a Fixer. If someone has a problem, Ivy can fix it. While at Hardwicke, Tess soon becomes the school's Fixer and she finds herself thrown into the world of politics and power. Everything gets dangerous when Tess uncovers a conspiracy that involves her family secrets and the family of one of Tess' classmates. What is uncovered will change Tess and everyone around her forever.
I found myself really struggling with this book. I know others are raving about it, but not me. The reason I struggled was because this book is heavy, heavy politics and I don't like politics at all. While Barnes is talking about highly placed people of power within the government, my eyes started to glaze over and my thoughts drifted to kittens and donuts.
Aside from the weight of politics and the political side of the story, it really is another blockbuster by Barnes. The characters were brilliantly introduced and developed. They were so complex that they felt real. The protagonist, Tess, was thrown so many curveballs throughout this entire story, and every time she recovered from them with such grace. She quickly adapted to all of her new surroundings without losing who she was as an individual. I did enjoy how there was no huge love side story here. It was hinted at who Tess might like, but it was not the focus of the story.
Barnes has such an amazing gift for writing amazing stories that pull the reader in and never let them go. This story is nothing short of that. The story was very fast paced and didn't drag on. I didn't feel there were low points where I was begging for something to happen. It really kept me on my toes but like I mentioned above, I struggled because of the politics. The political stuff felt very complicated and the story lacked the heist/espionage I was hoping for. There was just too much focus on the political scandals and that isn't my kind of story.
Now I am struggling to continue the series. I have the second book but I cannot bring myself to read it for reasons above. I wanted to love this series, I really did, but I just couldn't.