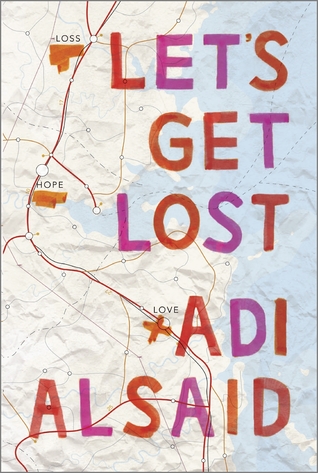 I don't know what it is about me as a reader but I always seem to be the odd-man-out. What most people love, I do not love. What most people strongly dislike, I adore. sigh That means that while most people had huge problems with this book, I could not get enough of it.
Let's Get Lost is the story of Leila and her road trip from the South to Alaska to see the Northern Lights. On her trip, Leila meets four strangers and the story shifts to be told from their eyes. The first person Leila meets is Hudson in Mississippi when her car stars to act up. He quickly becomes her love interest and they realize that their short time together is far too short. Will they meet again? We don't know just yet. The next character Leila meets is Bree. Bree is a very strong willed character and that paired with Leila's willingness to do almost anything means trouble is in store for them. The next character we meet is Elliot. Elliot is the hopeless romantic and Leila goes out of her way to help him get the girl of his dreams. The last character Leila meets is Sonia. Sonia and Leila go on a crazy and fun adventure across the border. All of these characters meet Leila for a reason as she helps them discover who they are meant to be. At the same time, they all help Leila discover a missing piece of herself as her story is not as simple as it seems.
I really did enjoy nearly all of the characters in this story. The only one I really did not connect with was Sonia. She felt a little flat to me, but the others were so good. Bree was a fun character as she was not afraid of a good time, while Elliot was a hopeful romantic just too shy to talk to the girl he wanted to be with. Of course, Hudson is my favorite. Now some people feel there was an insta-love between Leila and Hudson, but I read it more as an instant connection and I believe those can happen. It was not out right love, more of a shared bond. I also enjoyed how along the way, more and more of Leila's true story is revealed and we find out that she has some dark secrets she is trying to run away from. I did enjoy reading her full story in the last part of the book. I did walk away from this book feeling as if Leila's character was completely developed. It felt as if there was just a little bit of her that was not given to the reader.
This book is not just a sweet contemporary read, it is also a bit of a coming-of-age story. There is an emotional side as each character learns more about who they are and who they want to become. Also what they are capable of. There is humor, joy, hurt, triumph, and sorrow. I think Alsaid did a fantastic job of blending all of these emotions together. It is a quick moving book that I think shows how well it is written.
I do recommend this book to everyone, though I know the reviews on it are mixed. Some people never connected with the characters or they hated the way it was broken into five parts, whatever. I am giving you my honest opinion of this book and that it is a very sweet read and a quick read. I think more people should give it a chance.