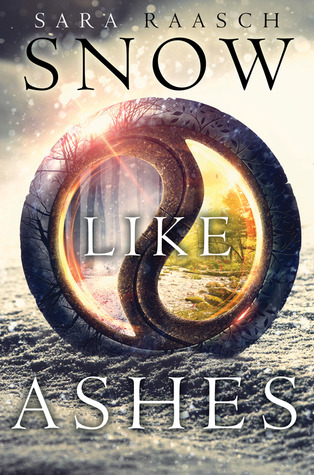 I really took my time getting to this book. Why? Two big reasons: high fantasy books sometimes go right over my head and this book had so much hype surrounding it. I listened to the audiobook and am sad to say that I did find myself zoning out at times but for the most part, I liked the story.
From Goodreads:
"Sixteen years ago the Kingdom of Winter was conquered and its citizens enslaved, leaving them without magic or a monarch. Now, the Winterians' only hope for freedom is the eight survivors who managed to escape, and who have been waiting for the opportunity to steal back Winter's magic and rebuild the kingdom ever since.
Orphaned as an infant during Winter's defeat, Meira has lived her whole life as a refugee, raised by the Winterians' general, Sir. Training to be a warrior—and desperately in love with her best friend, and future king, Mather — she would do anything to help her kingdom rise to power again.
So when scouts discover the location of the ancient locket that can restore Winter's magic, Meira decides to go after it herself. Finally, she's scaling towers, fighting enemy soldiers, and serving her kingdom just as she's always dreamed she would. But the mission doesn't go as planned, and Meira soon finds herself thrust into a world of evil magic and dangerous politics – and ultimately comes to realize that her destiny is not, never has been, her own."
This was a heck of a YA book. Again, high fantasy books sometimes go over my head but I did my best to keep up with it. I really enjoyed Meira as a protagonist. She was a strong heroine who refused to be beaten down by the expectations of others. At the same time, she is complex and flawed. While Meira was great, she alone did not hold up this story. The rest of the characters were very well-developed and just downright superb. The introduction of the dreaded love triangle made me roll my eyes. This was unnecessary in this story.
There are parts of this story that get info-dumpy and I usually skim over those parts. I know they are important but that much information dumped at once makes my head spin and causes me to zone out. It felt like a lot to keep up with all of the eight kingdoms and what happens in each of them. That's probably just me though. The images that I did get of this kingdom was quite horrifying. Meira and her Winterian people have gone through so much in the name of their kingdom. They all have had a hard life and would always have to fight for some reason.
I wasn't very surprised when the twist at the end was revealed, I saw it coming early in the book. The story was a bit predictable but it was a fun read. While it was good, I (personally) had a hard time keeping all of the kingdoms and specifics of the kingsdoms straight. I'm not upset that I read it but I will probably wait to read the next book in the series.