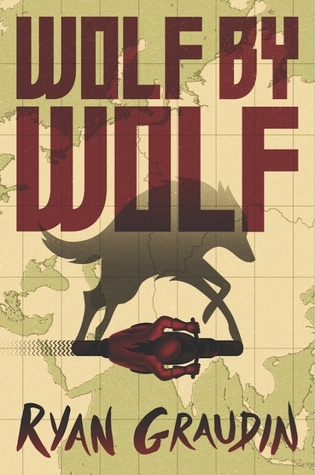 I'll admit, this is another book I put off reading because there is so much hype around it. I wasn't sure what to expect when I started this book other than a motorcycle race. I do have to give Graudin credit for writing one heck of an original story.
Summary (from Goodreads):
Code Name Verity meets Inglourious Basterds in this fast-paced novel from the author of The Walled City.
The year is 1956, and the Axis powers of the Third Reich and Imperial Japan rule the world. To commemorate their Great Victory over Britain and Russia, Hitler and Emperor Hirohito host the Axis Tour: an annual motorcycle race across their conjoined continents. The victor is awarded an audience with the highly reclusive Adolf Hitler at the Victor's ball.
Yael, who escaped from a death camp, has one goal: Win the race and kill Hitler. A survivor of painful human experimentation, Yael has the power to skinshift and must complete her mission by impersonating last year's only female victor, Adele Wolfe. This deception becomes more difficult when Felix, Adele twin's brother, and Luka, her former love interest, enter the race and watch Yael's every move. But as Yael begins to get closer to the other competitors, can she bring herself to be as ruthless as she needs to be to avoid discovery and complete her mission?
It is no secret that I usually have a hard time with historical books and this felt a little like a historical story since it deals with the horrible period of time surrounding Hitler and the Jews. Where the story gets incredibly creative and takes a slightly different turn is that there is a sci-fi twist. The main character, Yael, actually has the ability to skin shift. Now that is just wicked awesome in my book.
Yael was tested on from a very young age by the doctors in hopes that she would develop some super ability. How she uses it is really quite amazing. She has been training to kill Hitler. I didn't like her character in the beginning because she didn't feel like a fully developed character, if that made sense. I had a hard time connecting with her and her mission. She was very strong, determined and driven as a MC. I applaud her for that, but it was hard to feel anything more for her than wanting her to seek revenge.
The other characters in the book made this feel like another version of the Hunger Games. Just too many people and too many back stories. Yael is pretending to be Adele, the last female winner of the motorcycle race. Adele has a twin brother, Felix, who also joins the race but she isn't sure how to interact with him completely. Then there is Luka who is really complicated. He wants to be Yael/Adele's love interest but she must keep her head in the game. But Yael finds herself liking both Felix and Luka. I felt that was a little too much and a little too complicated for the story.
Let's talk about the world builiding. The world building in this just bloody brilliant and very well-structured. I really felt as if I was living this horror with Yael during her childhood, and even with her on the bike during the motorcycle race. Everything felt real and I could just picture it perfectly. The story is told in "Then" and "Now" periods but they flowed together so well. I didn't feel like I was getting whiplash from the back and forth. It just worked.
I cannot think of one moment of the book where I felt bored. This was so fast paced and action packed. I know I had a hard time truly connecting with Yael but I was still with her on her mission. One tiny thing that may have thrown me off a little bit was the actual motorcycle race. I am a mechanic but I work on and know cars, not motorcycles. I had a bit of a difficult time keeping up with everything surrounding the bikes and what went wrong with them. Outside of that, I followed everything in this story. Beware that this story has a MASSIVE cliffhanger at the end! So if that bothers you, maybe hold off until Blood for Blood comes out. The ending really will throw you for a loop because it really does just end and you are left wondering what the heck is going on.
I did enjoy this book a lot more than I thought I would. It certainly does deserve the hype and I hope people continue to pick up this story. I applaud Graudin for taking a chance and writing about a very sensitive and serious event in history. It really could have bombed this but this was so well done, readers cannot help but devour the story and beg for the next book.