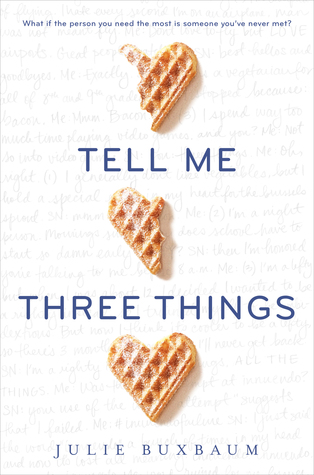 My heart.. this book is so sweet and adorable that it made my heart lighter.
Tell Me Three Things is Buxbaum's debut novel but you would never know it. This novel reads like a seasoned writer is behind the words. This is the story of Jessie and Somebody Nobody. Jessie's life is uprooted and turned upside down after her mother's death. Her Dad meets and suddenly marries a woman he met in a bereavement support group. Jessie has to start all over when she is moved from Chicago to LA. She starts in a super uppity fancy school in California without her friends or knowing anyone. Jessie sticks out like a sore thumb and some of the classmates there like to remind her of that. On the Jessie's first day, she receives a mysterious email from "Somebody Nobody" who claims he wants to be Jessie's friend and help her navigate her new school. Just who is this mystery SN? Is this a cruel joke or is this just the person Jessie needs in her life?
The constant ongoing mystery behind Somebody Nobody is so precious. I don't mean that in an adorable baby kind of precious, more of the "my heart is so full of hope" precious. The author did a wonderful job of keeping the identity of SN a secret. I was going back and forth wondering if it was Liam, the lead singer of OVille, or Caleb, Liam's friend, or Ethan, Jessie's English partner. I know who I wanted it to be, but that doesn't mean it is who SN turned out to be. SPOILER FREE REVIEW so you won't get outta me who SN really is. *evil laugh*
There are just so many parts of this story that stood out to me, one of them being the friendship with her father. It was so refreshing to read a story where the MC's father actually wants to be that involved with his dauther's life. He had his moments where I couldn't stand him for being selfish, but he really had his heart in the right place. To read how open he was with Jessie was so amazing. Towards the end of the story, all of the hurt and anger Jessie had towards her father changed. She finally realized that he is human and he is grieving the loss of his wife the best he can. He openly admits that if Jessie isn't happy, they will move out of LA, back to Chicago, and do whatever it takes to make her happy. That tugged at my heartstrings. That was such a beautiful moment.
The cast of characters, outside of Jessie and SN, really make this story. I felt for the friend Jessie left behind in Chicago – Scarlet. I understood her anger and applaud her for speaking her feelings the way she did. It took me a while to warm up to Theo, the stepbrother. I wasn't sure if he was just a jerk or if he was hiding something deeper, as if he was putting on a front. I still don't like the stepmom, Rachel, even though she is still trying to figure things out after the loss of her husband. That still didn't give her the right to behave the way she did. Jessie's new friends from school were so great: Dri and Agnes. I appreciated their openness and honesty with Jessie. They were true friends and so happy Jessie had them in her corner.
Now let's talk about Jessie's character. There were times I felt her voice sounded a little immature for a sixteen year old, and other times she was wise beyond her years. I think it was the texting/emailing/chatting with SN that made her sound immature at times. Maybe it was her being nervous and flirting with a boy that brought it out of her? Either way, I liked her. I like how she developed and grew into her skin. She had been through so much more than other girls her age and handled it the best way she could. She did her best to make the most of a bad situtation.
Oh, SN. How dreamy and swoonworthy are you. I loved the idea of this character. The idea of writing a boy as the one who is shy and hesitant to approach the new girl, yet gave him the platform via technology to be himself. I adored his character.
I felt this was an outstanding debut novel for Buxbaum. It was well written and wasn't afraid to breach the usually taboo topic of teens and sex. It was mentioned throughout the book, but not in such a way that it was negative. Rather, it was talked about in a mature way. I applaud the author for being able to do that. I also really enjoyed how the topic of death and grief were always present. How it showed a teenager's point of view on losing an a parent and how difficult that could be. Mourning and being able to grieve was so important to this story, right along with building the relationship with new friends, and strengthing the bond between her and her dad. I hope Buxbaum continues to knock it out of the park and writes more novels like this.