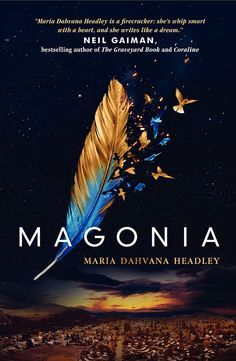 My thoughts immediately after I finished this book: What in the heck did I just read? Mind you, that was not said in a positive tone. This book is the textbook definition of "buying a book based completely on its cover".
This is the story of sixteen year old Aza. Aza has had serious health issues since she was a baby. She has always had trouble breathing and was always in the hospital. This was Aza's life and she knew at any moment she could take her last breath. By her side the entire time was her best friend, Jason. Jason loved Aza with everything that he had and would do anything to protect her. Everything changed when Aza started noticing birds outside of her home and one even flew into her lung one night. Shortly after that event, Aza took her last human breath and passed away. Well…. sort of. It turns out that Aza is actually from the mystical place called Magonia – a city that lives in the sky. In the sky, nearly everyone is a bird of some sort. Aza happens to be the long lost daughter of the ship's captain that has been lost for 16 years and she is supposed to be the one that helps set the people aboard her mom's ship free. Aza has to learn very quickly what her role is in this new life and how she fits in on this ship. She tries her best to fulfill her duties but she cannot stop thinking about her human best friend, Jason. Can Aza life up to the role that is placed before her? Can she save her mother's ship and be the one everyone needs her to be?
I cannot stop shaking my head at this book. I mean…  I know it's a fantasy story but this is an absurd fantasy. My mind just could not accept what was going on. Better yet, I did not care. I did not like Aza's character, or any character within this book. I didn't connect with anyone in this story. Aza was okay in the beginning but once she was taken aboard the ship, she became worse. She was so whiney, bratty, and wishy-washy that it was making me mad. First she would embrace her new future, then she would change her mind and want to go back to live with the "drowners" (the name for the people that lived on land). If she is the protagonist, I need her to have a backbone of some kind. Instead she flopped back and forth throughout the entire story. Don't get me started on Aza's best friend Jason. I couldn't stand his character. He was sweet but that did not make up for how utterly annoying and frustrating he was. When he gets stressed, he recites the numbers of Pi as far as he can and hearing that on the audio is more than annoying. It would go on for minutes, just rambling numbers of Pi. I should have quit then because he did this all of the time. His character was so all over the place that he was just not well developed. Honestly, I don't think he was the right type of character for the best friend role. It needed to be… well… anyone but who the author wrote. None of the characters were developed, nor did they develop at all during the story.
The pacing of this story was not done well, nor was the plot actually delivered in a sane fashion. The main part of the story didn't happen until almost half way through and until that happened, all I learned was that Aza was really, really sick. Uh.. ok. I understand that but how about you get to the meat & potatoes of the story already, author? The meat & potatoes didn't happen until after Aza died, which was about 50% of the way through the book. That means the reader gets to listen to her whine and complain and tell you again that she is sick. Once you learned why the book is called Magonia and what Aza's true role is – BAM – info dump! Definitations, terminology, history, people, places, and things from this new world are thrown at the reader at rapid speed which leaves you very confused and wondering what is going on.
I am not against books about/containing/deailng with bird characters at all (Daughter of Smoke and Bone?! The Girl At Midnight?!) What I am against is books where the plot is not well written and the characters not developed well. That is what this book was to me: not done well at all. I fell victim to the beautiful cover and thought that the story must be just as beautiful. WRONG. I struggled to get through this book so I certainly will not be picking up the second book. I just don't care what happens.