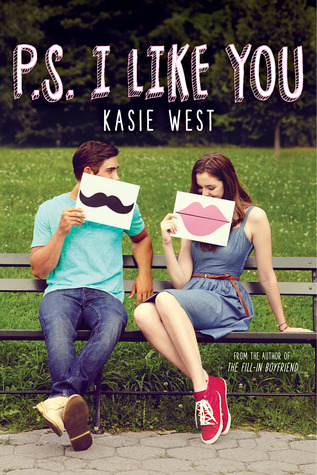 Kasie West has written another adorable story. I'm pretty sure she cannot write a bad book. (Kasie, if you are reading this, that is not a challenge.)
The protagonist of the story, Lily, wants nothing more than to be a songwriter. Playing her guitar and writing lyrics are the two things that give her absolute peace in her crazy world. She is the second eldest daughter in a very busy family with four kids and two parents with unsteady jobs. Lily is relied on heavily to take care of her younger brothers, which means her alone time is usually short and very rare. One day in Chemistry class, Lily starts doodling on her desk when she sees a note from another student… it happens to be song lyrics. Lily cannot resist and writes the next line in the song. This is what starts the friendship between Lily and her mystery writer. They soon start leaving notes for each other, revealing more and more of themselves. Lily is beside herself trying to figure out who the writer is because she has started to develop feelings for him. Could this person be the perfect match for Lily? Is the writer the guy she has had a crush on for the longest time or is he someone she cannot stand?
I read this book on my flight back from NYC. I read the entire thing before I landed home in Texas. West's books are so well written that they are nothing but page turners. I couldn't put this book down. With that being said, this story line felt predictable to me. I knew from the beginning  who the mystery writer was going to be. I like how there were some curve balls thrown in to try to throw the reader off, but it didn't change that you just knew who it was. I was more envolved with how the story unfolded and how everything came together. I think that is one of West's true talents is how she weaves a story together. It all flowed beautifully.
I liked the characters in this story, but I didn't love any of them. The only reason I can think of as to why I didn't love these characters is because they felt stereotypical to me. Lily is the teen who isn't popular but isn't an outcast, she isn't trendy but has her own style. She has her best friend that supports her and knows exactly what to say in any situtation. Cade is the popular jock in school. Everyone loves his jokes, even when he is making fun of other people. He feels he can get away with anything because he usually does. Lucas is the smoking hot musician that is super mysterious and every girl dreams of him. He's soft spoken and carefree because he's just that cool. It felt like they all just had a mold to fit: somewhat nerdy girl – obnoxious jock that makes fun of people – mysterious guy that loves to play guitar. See what I mean?
I really don't want to spoil anything with this review, that is why it is kind of vague. What it boils down to is did the obnoxious jock write the notes, or was it the mysterious musician?  Who has Lily fallen for? And does that letter writer know that Lily is the girl writing him letters? I can't go into more detail without giving everything away.
It sounds like I didn't like this story but I did. I just didn't like it as much as West's other stories. I didn't feel the swoons because I didn't connect to the characters like I have in other books. I saw the ending coming a mile away so there was no huge reveal or shock factor for me. It was a super cute read but nothing I haven't read before. I do recommend this as a light, super sweet summer read but it isn't my all time favorite West book.