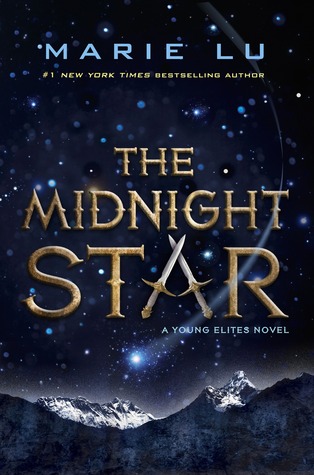 I'm pretty sure there is not anything I wouldn't read that has been written by Marie Lu. Grocery list? Give it to me. Instructions for how to program the clock on your VCR? I give it 5 stars. Her words flow and her stories are mesmerizing. I'm not sure I can ever get enough. And this story? This end to another brilliant trilogy? Beauty in book form.
This story opens with Adelina as self proclaimed queen, feeling the best way to keep people loving her as queen is to instill fear in them. She is not only the queen, but the villain of this story. The more she uses her powers, the more unstable she becomes. She is increasingly paranoid, the hateful voices inside her heard are becoming louder. They lead her to believe that everyone is out to get her and nobody can be trusted. On her quest to take down Raffaele and the rest of the Young Elites, it is discovered that the Underworld is seeping into the living world and Adelina will have to join forces with her sworn enemies in order to save the world. But is Adelina willing to make the ultimate sacrifice on her quest for glory and power?
I was saddened when I finished this book because I love reading Lu's words, but that means we get something even better next, right? This felt like a quick read but it is not a light read. Lu forces Adelina to make some very tough choices and to swallow her pride in order to see the bigger picture. I loved it. The characters written are so deep and complex that I was always learning something new about them. I felt they developed so much as the series continued. Yes, sides are taken and lines are drawn in the sand, but it does not make you hate one character more than any other. What stood out to me the most about this book in the series is that it was not about characters fighting or obtaining power, it is more about choices, being responsible for your actions, and sacrifices. The ending is very powerful and is still playing through my head weeks after finishing the book.
The one little issue I had with this story is that the world building was lacking. There was not a wonderful set up that takes the reader back into the world of The Young Elites. It felt like it picked up right where book 2 left off, as if the reader remembers the lay of the land and an entire year (in real life) has not gone by. And make no mistake, this final book is mainly focused on Adelina and her inner demons. Do not think that the rest of the Young Elites will be included to the extent that they were in the previous books. Violetta does have a greater role in this story and she becomes such a stand out character.
I still loved this book/story/ending. It was a 4.5 star read for me. I cannot give it 5 stars based on the paragraph above, but it was still outstanding regardless. I want everyone to love this story as much as I did. I hope everyone gives it a chance. If you have read it, let me know so we can gush about it! If you are going to read it, let me know so we can squeal about it! If you are curious about it, please give it a chance so we can gush!