This book was so high on my TBR list that I almost starting shaking when I finally got to read it. Illuminae was hands down one of the best books I read in 2015, so understandably there was a lot of hype around this story. Would it be as good as the first book? I can say with absolute certainty that it was just as strong as I wanted it to be.
I am going to do something a little different with this review – I have read both the arc book and listened to the arc audio. I'm going to review BOTH as I feel they have both earned it.
BeiTech is still at it. BeiTech is still attacking other ships in outer space they feel might be a threat. This time they have set their targets on Jump Station Heimdall. What BeiTech has not planned for is Hanna and Nik. Hanna is the daughter of the station captain's daughter, highly trained in nearly everything deadly. Nik is a member of a vicious crime family. Together, Hanna and Nik are more than BeiTech could have ever imagined. Hanna and Nik fight with everything they have to defend the Heimdall and they are prepared to go down with the ship if it means saving everyone else. There is one thing that is trying to take over the ship and it isn't AIDAN – an alien predator. Alien predators are picking off crew members one by one and suddenly it isn't just BeiTech Hanna and Nik are trying to fend off. Packed full of non-stop action and snarky dialogue, Hanna and Nik are not to be messed with but can they save everyone, including themselves?
Physical ARC Review
This was me while reading this book:
This was me after finishing the book: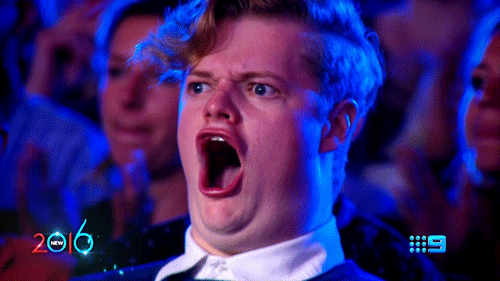 I wasn't sure if I would like Hanna and Nik because my feels are with Kady and Ezra (I ship them forever). I was right, I didn't like them in the beginning but they grew on me, especially Nik. I thought Hanna was the spoiled princess with badass training. She was the ship captain's daughter so it felt like she always got what she wanted. The best training, the best clothing, the ability to get away with nearly everything. Once the assassins board the ship and take the one thing that means the most to her, I was happy to see the spoiled princess side go away. She turned into a lethal weapon with a knack for killing. I liked Nik from the beginning. He was a criminal with a past who was trying to keep his cousin safe. I can't fault a guy for that. But when Hanna and Nik teamed up, whoa.
I devoured this book. I tried to take my time reading it because the way the story is laid out on the pages is brilliant. IMs, texts, chats, surveillance footage, it is all a lot to take in but it adds so much to the overall story. I wanted to soak it up as slowly as possible. I don't believe this book/story is meant to be rushed. With as much as I sing the praises of this book, I cannot ignore the fact that there are two things that stood out to me:
Plot: The plot was lacking a little bit. I did not like the introduction of the alien predators so much. Sure, I understand there needed to be some biological threat like there was in Illuminae but this didn't feel as natural or as much of a threat. They were organisms introduced into livestock in order to produce some type of drug. Uh… okay. But if they are left unattended, they would leave the host and seek another life source. That just didn't feel as threatening as a deadly airborne virus that could turn a human into a zombie-like creature. Now that was badass.
Connecting with the rest of the characters: I did not feel as connected to the rest of the ship/characters as I was in the first story. I really liked Nik's cousin and was more worried about her most of the time. I felt there were too many bad guys introduced with specific call names. I had a tough time keeping up with who was where and who was killed.
Audio ARC Review
HOLY CROW. I had heard the audio for Illuminae was good but I was not prepared. All of the issues I had with the physical copy were gone with the audio. Hearing the full cast of characters brought this audio to an entirely new level. I will not ever be able to compare another book to this one – ever. I immediately felt for each character and feel in love with the story all over again. The aliens made sense, probably because you could hear them so you felt they really were right behind you. Just overall the story made more sense to me. I was invested in their escape, their battle, their need for survival. I liked Hanna and Nik so much more. It still felt like there were too many bad guys to keep up with so I stopped trying. I listened for the key players and went that route. It worked for me and would recommend anyone doing that.
I was worried the audio would take way from the originality of the physical pages. You know what I mean because the words and the art on the pages of the physical add another dimension to the story. The audio does not take anything away. In fact, I think it adds more to the story. This felt like a 3D experience! The sound effects and the full cast make you feel as if you have been submerged in this world. It is mind-blowing. I wanted to stop working just so I could sit and listen to the story.
The one thing that did make me over the moon happy was the story line of this book takes place minutes after the end of the first book. Kady and Ezra do have a presence. (EEK!) I cannot and will not lose my faith in this series based on this book. I still loved it and it still blew my hair back. I am a fan for live and will push this book on people every chance I get. I hope this is already on your radar and you read it as soon as it comes out.