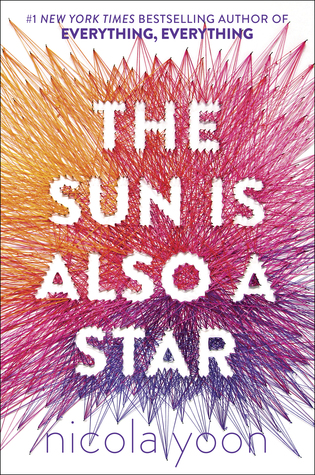 I thought I was prepared for this new story by Nicola Yoon but I was so very wrong. By the end of this heartbreaking story, I was ugly crying.
This is the story of Natasha and Daniel and the unusual way they met. Natasha is the daughter of illegal immigrants who came to the US many years ago. Live in the States is all Natasha knows. Everything changes when her father has an accident and it is discovered that he and his family is living illegally and they are scheduled to be deported back to Jamaica. Now, Natasha is not a wondering heart, nor does she believe in destiny. What she believes in is science and facts, things that can be proven. Natasha will question everything when she runs into Daniel in a crowded NYC street. He is immediately drawn to her and everything he thought he knew is forgotten. He has always been a good kid and done what has been asked of him, even if it wasn't part of his overall dreams. Now? Now he thinks she brings out another side in him, a side where he can do what he wants and still make his parents happy. Maybe even possibly a life where he and this full of life Natasha could be happy together. But wait… the Universe itself may have another life planned out for them regardless of what they want.
I loved how these two main characters were such polar opposites. Natasha had to have cold hard facts, while Daniel was so much more easy going. The way they were written was downright perfect. From where they started until where the story ended, the developed that happened to both of them was mind blowing. And it worked. I mean, it worked. If they had been written any differently, I would have rolled my eyes and stopped this book. Instead, I couldn't put it down. I had to know what was going to happen to the both of them.
This is not only a story about Daniel and Natasha, but about their families and cultures as well. Hear me out. Natasha knew she was not legal to be in the States but went about living as if everything was going well until the incident with her father. As the story progresses, we are given a bigger window into just what happened with her family, the struggles and sacrifices, the hopes and shattered dreams. That alone was heart breaking. The same is true with Daniel's family. He is the youngest son to a Korean born family. We find out that his family owns a store that sells beauty supplies to the African-American community. They do this so their children can go to school to become doctors. Mind you, Daniel's dream is not to become a doctor, that is his parents' dream for him. This story quickly becomes so much deeper than just a love story between a girl and a boy.
This is a hauntingly beautiful story. When it started, I thought it would follow the same pattern as other contemporaries but oh no, Yoon cannot do anything that easy. For that, I adore her and I deeply thank her. After we are introduced to the characters and they alternate POVs, there is a third narrative that makes its appearance: the universe. Or so I guess it is the universe. It gives the backstory and history behind minor characters in the story about how their interaction(s) with Natasha and/or Daniel change the course of their lives. The characters range from the security guard at the immigration building to the receptionist at the law firm. Bloody brilliant. Outstanding. Breath of fresh air. That is the part of the story that really stuck with me. It made me think more about how I interact with people and how it may affect them. Plus, it made me wonder how my life changes daily based on my interactions with people. You just never know what the universe has planned.
I'm still not sure I can say enough good things about this story. It was so incredibly unique that I know I'll be recommending it to book lovers for a very long time. If there is one book you read this fall, only one, please let it be this one. Or at least put it in your Top Ten to read before the end of 2016. Do it and let me know how you feel about it. We will fangirl together. I give this all of the stars in the sky and I still feel as if that is not enough.