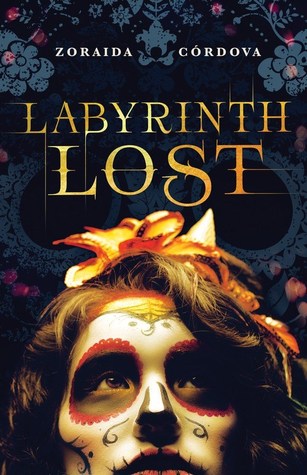 I liked this book more than I thought I would. I went into it with hesitation as it has mixed reviews on GR. But we all know not to believe every review you read (unless it is my review, right? 😉 ).
This is the story of Alex and the day she comes to terms with being a bruja. She's a witch, basically. She comes from a long line of brujas, some very powerful brujas. Unfortunately for Alex, she hates her powers. She has been trying to hid them and ignore them for years. Yet everything changes on her birthday. Dark powers are after Alex and sadly take her entire family instead. With the help of her long time best friend and Nova, a brujo that has dark secrets of his own, Alex travels to the place inbetween, Los Lagos, to face horrible evil just so she can get her family back.
This book engulfed me from the first chapter. I have read my share of magic books but this one was so well developed and throughout. I couldn't get enough of it. When I wasn't reading it, I wished I was reading. The story was just that good and engrossing. The overall plot itself was a fun and wild ride. It had the feeling of being in a demented Wonderland, yet far more creepy. This felt like it was rich in history of a time and place I wanted to know more about. The world building was outstanding! I could picture everything without hesitation. I was able to appreciate and enjoy the magic within this book because it was written so beautifully.
Alex and her friends had to rely on their wit and common sense to get out of trouble and stay out of harm's way. Secrets are revealed and truths come out along the way that made me question the motives of the characters. That being said, I really liked the characters. Alex starts out as a self-centered brat that refuses to accept who she is. She claims to have her reasons but they still seem selfish. Her best friend, Rishi, was one of my favorite characters. Her spunk and spit-fire attitude made this story that much more enjoyable. I was always weary of Nova. He always kept everyone at arm's length and never revealed too much of himself. Hard to trust a person like that. Now with most YA stories, the female protagonist usually falls for male character but in this book she falls for both. Alex falls for both Nova and Rishi. I'm still unsure of how I feel about Alex and Rishi as a couple. Their relationship didn't feel very real to me, it felt more awkward. I also wasn't a fan of Alex with Nova. Then again, I ended up not being his biggest fan. I do applaud Cordova on writing a bisexual protagonist – and one that isn't ashamed to be bisexual. She realized that she liked both Nova and Rishi and went with it. Good for you!
While I am singing the praises for this book – and I certainly am – I am going to keep this level by saying this book did have a few not so good points, that being the romances. They felt forced and a little out of place in this story. I did love the diversity within the book. I think it is going to open the eyes of a lot of readers into Latin culture. It has made me a fan and I cannot wait to get my hands on the next book in this series.