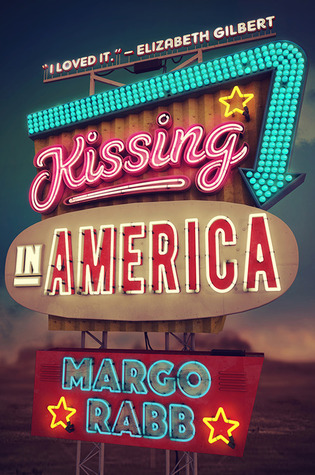 I started this thinking it would be a sweet contemp story but it ended up being more than that. It was a coming of age, finding yourself, and rebuilding relationships story.
Two years has passed since Eva's father tragically died in an accident. Her mother has refuses to talk about it and has basically shut down. Eva's way of coping has been books – specifically romance novels. She loves reading about the adventures of others romances as it helps her forget her own problems for a short time. Enter Will. Will is a popular boy at school who has taken a liking to Eva and the two instantly hit it off. Eva finally thinks she has found her own romance story when Will informs her that he will be moving to California to live with his dad. Eva hatches a plan with her best friend Annie to get them both to California to see Will one more time. This trip will turn out to be a life changer for everyone.
When I started this story I had a panic moment because very quickly in it is obvious that there is instalove involved. I am not ever a fan of instalove. Blech. Eva swears her life would be better if it were a romance novel, but reality always has other plans. Eva falls too hard and too fast for Will in a very, very short amount of time. Their meeting came across as a love at first sight and I almost never believe it. They knew nothing about each other and yet Eva is willing to move heaven and Earth to see him just one more time because she swears they have a "connection". You can hear me rolling my eyes, right? Thankfully after Will moves and Eva starts to think with her actual intellect, she soon discovers that she may not truly be as in love with him as she thought. Well, duh. It was frustrating that it took her most of the book to come to that conclusion.
As the road trip continues and Eva gets closer to California, the basis of the story takes a shift. It moves from being all about Eva and Will, to Eva finding out what truly happened to her Dad and fixing the relationship with her Mom. It is sad that it took Eva practically ditching her Mom and spending time with her Aunt to discover just how much she loved and needed her Mom. That's weird to say but that is how it came across in the story. Eva had to have another family member that she loved tell her to open her eyes and realize that not everything is about her. WOO! Finally someone told her! *happy dance* Eva and her Mom have a lot of work to do to fix their broken relationship, but you can tell they both want to make it work. I wish this story focused more on the mother daughter relationship but at least it had a presence.
I know it sounds like I didn't like this book but I did. I liked Eva as a character. It was so nice to read how she grew and developed as the story went on. She was finally able to pull her head out of the clouds and realize life is not always pretty like a romance novel. She started out super annoying, especially when she swore she was "so in love" with Will, but thankfully she talked herself out of that before the book was over.
I never had swoony feelings for Will. He was an alright love interest but I wasn't heart eyes emoji over him. I just never felt he cared for Eva the same way she did for him. There were times Will felt very self absorbed and more concerned about his own problems. Yes, he did have his own issues but if he wanted to be with Eva, shouldn't that mean he completely brought her into his life by sharing all of his concerns with her? Just a thought.
The last thing that I wanted to mention was the friendship throughout this entire story. Annie is one of the best friends I have read. She felt so realistic and I ended up wanting her as my friend in real life. Annie was always, always there for Eva, even when Eva was an idiot and never thought about how her actions would hurt others.
Would I recommend this book? Yes, I believe I would. If you can look past the instalove that is very obvious early in the book you will find a heartwarming story of friendship and relationships of all kinds. But no matter what, don't go into this believing it is a true contemp/romance book because it is not. Don't be fooled.