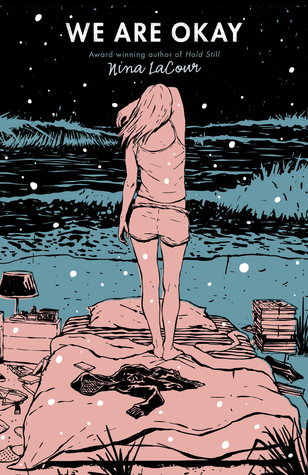 This was a tough story to get through but at the same time, I couldn't put the book down. Whatever you think is going to happen, this book will break all of those expectations and leave you wanting more.
Marin left her home without a word shortly after her grandfather disappeared. She hopped on an airplane and flew to the other side of the US without telling anyone. She lived in a hotel room for weeks until she could start college but she had nothing with her, not even a toothbrush. Not even Marvin's best friend, Mabel, knew what really happened in her life during those final weeks. Everything starts to come together during the college holiday break. Marvin has decided to stay at the dorms over the break and Mabel is going to spend a few days with her. Will Marvin be able to really tell her former best friend and first love what caused her to leave without a word? Will she finally be able to admit what she has been feeling inside this entire time?
Marvin's character was wonderfully complex and flawed, I loved it. Her character was so well developed that I wanted to know everything about her. To be able to have the story from her POV made all of the difference. We were given a first hand look into her thoughts and feelings so it made it the story that much more painful and realistic. Marvin's relationship with Mabel was beautiful. To know that they shared something magical and wonderful left me with such a beautiful feeling. I wanted them to stay together forever. Though, I can sort of understand why Marvin left. The poor girl was broken in a way that nobody else could understand. Once the truth came out about her grandfather, she did what she thought she needed to in order to survive. I cannot fault a girl for that. Yet, the friends and family she made back home were not so quick to give up on her.
LaCour did a marvelous job of laying this story out for the readers. Everything happened at a great pace and there was just enough of "what is going to happen?!" to keep the reader on their toes. I was hanging on LaCour's every word. I wanted to know what happened between Marvin and Mabel after so much time apart. This book made me want to hold someone just so I knew I wasn't alone. While this is a short book, I found myself crying a bit throughout. The sadness was so powerful and soul shattering that I couldn't help but tear up. Either that or someone was cutting an onion right beside me the entire time.
This was my first LaCour book and if the rest are half as good as this one, it won't be my last. I want everyone to read this book. If the cover alone doesn't pull you in, LaCour's powerful story of love, loss, acceptance, and deliverance will wrap you up like a warm blanket and never let you go. I do believe this is one of those stories that everyone should add to their TBR immediately. This needs to be read by as many people as possible.