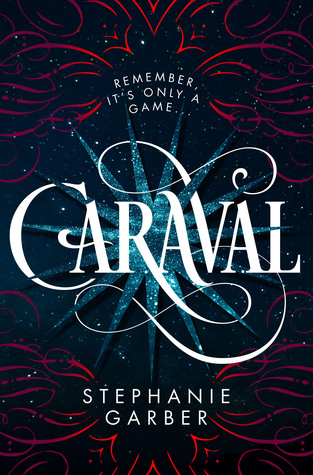 Let's be honest… who isn't excited for this book? The blurb alone promises a magical adventure that will stimulate all senses. Those are some big promises and I believe that this book lives up to that hype. I know I devoured this book as quickly as I could. I was immediately pulled into the world Stephanie Garber created and didn't ever want to leave.
Scarlett and her sister Tella live on a tiny island with their ruthless and abusive father. The only way these two girls are getting away from their father is through an arranged marriage. Scarlett has just found out that her father has arranged a marriage for her and she is somewhat grateful. She is the dutiful daughter that does what she is told so she doesn't anger anyone. Putting her own wants aside to make everyone else happy means she may give up her last chance to visit the infamous Caraval as it travels close to her island. You see, you have to be invited by the Caraval creator, Legend, and for many, many years Scarlett has been writing hoping to attend. She finally gets her wish when Legend sends tickets for her and her sister. With the help of a mysterious sailor, Julian, Scarlett and Tella sneak off of the island and make their way to Caraval, only Tella is kidnapped as soon as they arrive. It is soon revealed that this year's Caraval is centered around Tella and whoever finds her first is declared the winner. Everyone knows that Caraval is an elaborate performance in every aspect, but Scarlett was not prepared for what she encounters. She finds herself in deeper than she could have ever imagined. Above all else, Scarlett knows she must find and rescue her sister before the game ends and she disappears forever.
Before I started this book, a lot of people compared it to The Night Circus but if you read my review of that book, you'll know I didn't like it very much. I want to throw my two cents into that pot and say I liked this book so much more than The Night Circus. I felt like this story did a much better job of including all of my senses and pulling me into the story. I didn't know a book could incorporate sight into it but Stephanie Garber found a way. I swear to you I could picture the plush fabric of the draps described, including exactly how they vibrant and full of life they were. I didn't know that was possible! I won't keep comparing to the other book but this one rose head and shoulders above what I was expecting.
There were just so many twists and turns with the plot! So many times I swore I knew what was going to happen, only I would turn the page to find out I was completely wrong. Well done, Ms. Garber, at weaving such a magical and alluring tale of epic proportion. (I do not use the word "epic" often but I am using it here. If ever a book deserves it, this book does.) The adventure Scarlett goes on with Julian while in the midst of Caraval is one you have to read to appreciate. She is trying so hard to save her sister but she also discovers so much more about herself as a person. It was such a delight to read such character development. I really enjoyed how Julian wanted to help Scarlett but pushed her just enough that she was always outside of her comfort zone. I was not the biggest fan of Tella as she came across as the most ungrateful and self-centered girl I have read. It seemed she couldn't take anything seriously, even after she had been kidnapped.
I am trying really hard not to give too much away! I did enjoy this story more than I thought I would. There is a lot of hype around this story so I went in with caution. I was not disappointed and I loved every minute. The ending may have been a tad bit rushed but it set up perfectly for the second book in the series. Hugh kudos to Ms. Garber for an amazing debut novel! I cannot wait to see what other adventures she has in store for her readers.