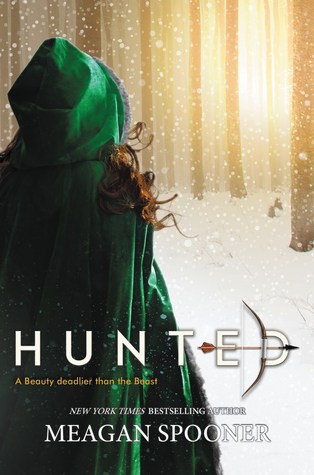 I didn't know I had been waiting so long for a book like this until I read it. Beauty and the Beast has been my favorite fairy tale for as long as I can remember so I was cautious when I started this. Would Meagan Spooner do the story justice? Will the emotions for the story still be there? Will I be able to escape into this world? The answer to all of these questions: YES.
Yesa, whose actual name is Beauty, is her father's daughter. She was taught by him to know how to handle herself in the woods. When she was young, Yesa's father moved Beauty and her sisters away from the woods into the city in hopes of bettering their lives. Everything changes when her father loses the family's entire fortune and they are forced to leave the city to live in a small shack in the woods. Yesa and her sisters are not overjoyed at the idea of living in the woods but they will make the best of it. Yesa's father is determined to make things right by paying back the money he lost by selling the kills he will make in the woods. Everything goes from bad to worse when Yesa's father does not return from the woods after a day of hunting. Everyone is afraid he has gone mad in the woods and something horrible has happened to him. Yesa knows she is the only one that can survive the woods and hunt down the monster that her father was originally tracking. Yesa quickly discovers that this monster is not an ordinary beast, it is so much more and it will change Yesa's life forever.
If Spooner can do one thing it is weave a magical tale that will take a hold of you and never let go. This story sucked me in from page one. This was not the Disney-version I was used to. Instead, this tale was more based on the Rus/Russian folk tale using the Gray Wolf/Ivan myth. I was not as familiar with this version but quickly found it was just as encompassing as I had hoped it would be. It felt like a new spin on an old story. The world building of the woods, Beast's castle, and the characters/animals within were enchanting. When Beauty/Yesa is locked in the dungeon after being captured, I could have sworn I felt the cold seeping from the brick walls. It was all so vivid that I often felt I was right there with the characters. That was impressive.
The characters of this story were brilliant. I felt as if every single one of them had a very distinct voice and personality. That goes for the mythical characters as well. Beauty/Yesa was so well developed. She acted and moved like a true woodsman hunter. When she finally comes into contact with Beast, their interactions were fluid. It seemed their banter came easily. Beast was used to getting his way and Beauty was just as stubborn. Beauty's true strength came out more when she was fighting to stay alive in the dungeon. She fights every single day because knows she has to get through it in order to avenge her father and return to her sisters. Throughout the story Beauty seemed torn between saving herself and taking care of her family. She wants to save everyone but she knows that is not an option. The love and respect she had for her sisters was breathtaking. Beast's character was so intriguing. Very little is given away in the early part of the story. You know he is a threat and very dangerous, but not where he comes from. Slowly his story comes out and you start to see him in a different light. You start to realize that he really isn't as bad as he was made out to be. But throughout that, you want to see if these characters continue to grow and develop with every passing challenge.
I'm really, really trying hard to not give too much away with this story. I hope that everyone is excited for this release and will give it a chance. I enjoyed this book so much that I feel I am struggling to express myself properly. It is so full of magic, fantasy, adventure, family, relationships, sacrifice, self discovery, legends, myths, and more! Please, add it to your TBR if it isn't already. Everyone needs to read this story.