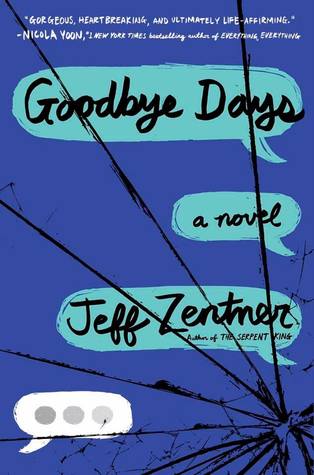 I have been struggling with this review for months. Why? This book was so earth shattering, soul crushing, heart smashing good that I am afraid my words will not do this story justice.
Carver Briggs never thought his life was anything more than normal. Amazing friends and great family, what more could he want? Everything changed after he sent a text to one of his best friends and that might have caused a horrific car crash that ended their lives. A criminal investigation is launched to see what exactly caused the accident that ended the lives of Mars, Eli, and Blake. No matter what the outcome is, Carver has to carry the guilt that he, in fact, may be the reason for their deaths. The families are all dealing with the loss in very different ways. Then, one day, Blake's grandmother reaches out to Carver and asks him to help her with a 'goodbye day' so she can say her final goodbyes to the grandson she lost. Carver is apprehensive but feels obligated to help her out. It turns out to be therapeutic for both. This gives Carver the idea to reach out to the other families to have a 'goodbye day' for the sons they lost. Is this really the best thing? Are all of the families willing to forgive Carver for what he might have done?
This book made me ugly cry and it caused mascara stains on my pillow case. I may send Random House and Jeff the dry cleaning bill for that, but I'm not sure yet. I do know that this book broke me in ways I didn't know I could break. From page one my heart went out to Carver and what he was going through. I quickly became invested in all of the characters. I soon found myself wishing I was a member of the Sauce Crew. These guys just clicked on another level that let me know they truly would have been friends for life, long after high school and they scattered to the winds. This group was meant to be a unit. I always thought it would be difficult for a writer to make readers care so much about characters that are no longer living but Jeff did it effortlessly. I cared so much for the members of the Sauce Crew that the more I found out about them, the more my heart shattered. I found myself breaking apart at how much life they did not get to live or experience. Just thinking about it now is threatening to test my waterproof mascara.
This story was so beautifully written that I tore through it in no time. I was so engrossed in what was happening that I was sad when the story ended. I just wanted to keep reading Jeff's words. By the end of this story, my heart was shattered and barely functioning, yet I was thanking Jeff for doing this to me because Carver's journey was just so beautiful.
I really do not know how much more I can say about this story without giving it away. It is no secret that I am the biggest fan of this story and will be recommending it to everyone for a very, very long time.  This is a story that will probably (hopefully?) stay with a lot of people. It is so thought provoking that I am still playing this story over and over in my head. Now I'm just rambling. That's what great books due to me… they make me a blubbering idiot. Promise me you will pick up this book. Promise me you will buy it, borrow from the library, borrow from a friend. Whatever you need to do (except steal!) to get a copy of this story, do it.