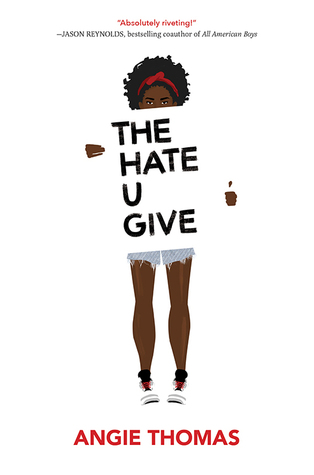 I'm going to be honest: I'm not sure how to review this book properly. This book snuck up and sucker punched all of my emotions in the best way possible. How do you do a book like that justice in a review?
Sort synopsis: Starr witnesses her childhood best friend, Khalil,  die in front of her after a police officer shoots and kills him during a traffic stop. Soon after, Khalil's murder becomes national news as he was black and the police officer was white. Also, Khalil was unarmed. Throughout the entire story, Starr tries to balance her life at a rich and preppy school with the life she lives while in the poor neighborhood her school friends make fun of. Will Starr have the courage to stand up and do what is right, even if it means putting her life and her family's life in danger?
This was not a story I went into blind. I knew this was inspired by Black Lives Matter but I was not prepared for just how much it would get to me. There were several moments within this story that flat out pissed me off. I was outraged by how certain situations were handled (or not) and/or by how people reacted to events. Let it be known now that Angie Thomas can write. Holy crap can this girl write. She brought me to tears and stirred up emotions that made me want to get out of my chair and do something. Authors like that do not come along often. Sure, I have been moved to tears over how a character died suddenly or by how another character was treated, but the overall premise of this story spoke to me. Books like this need to exist in YA. I believe Angie fills a much needed void. She has done what others may have been scared to do because let's be honest, this can be a touchy topic. It could either be handled really well or horribly bad. This story? Eye opening and deeply moving, beautiful and breathtaking, full of raw emotion. I'm not sure I'll ever stop saying good things about this story.
Starr's character was outstanding. I want to be friends with her in real life. Her sass and attitude made me instantly fall for her. I was immediately on her side. Heck, I wanted to jump into the story and fight right alongside her. The way she constantly fought with herself about how she was two different people: the Starr her school friends saw, and the Starr that the people from her poor neighborhood saw. Those two people can be so very different at times but in the end, can they become one? Can the real Starr shine through?
The one theme I picked up on throughout this entire story is just how important family is. No matter what Starr was going through, her family was right beside her. They never left her, not for one moment. They always took the time to talk to her, ask her how she was doing, to check in on her mental and emotional state to ask if she needed help. Talk about refreshing! It brings a tear to my eye just thinking about it.
I don't know if it is too early to call it, but this may be the best book of 2017. I want everyone to read this book. Also, if you get a chance, listen to the audio version. Hearing the voices for the characters brings so much more to this story. There are moments that had me in tears I was laughing so hard, while others had me in tears for other reasons. No matter what, read this book. Please, please read this book and share with others. This book needs to be in the world.