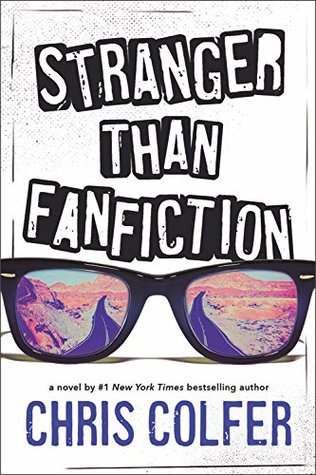 How did this offensive and insensitive pile of crap get published? Oh my goodness this book has me triggered.
Short recap: Childhood celebrity crashes four teens summer road trip for a good time.
This book triggered me in ways I didn't know could be done. I DNFd at 60% because that was my limit. Let me list the things that stood out, offended, and triggered me the most:
A lot of verbal bullying by the childhood celebrity
Heavy references to drug use
Heavy references to casual sex with multiple people
 POC are poorly represented, as are trans and gay people
People of fandoms and convention goers are also poorly represented
Slightly offended by references to my home state of Oklahoma
In short, almost everything about this book set me off. First, the plot. The plot itself had potential but it was executed and delivered very poorly. The way Colfer referenced historical landmarks and states made it seem like anyone that either visited or wanted to visit these places is a loser. Why is that even necessary to make this story move forward? Answer: It isn't. It does not make you a cooler author, it does more damage to those people who have visited those landmarks or live in those states. No cool.
The characters. This has to be the worst portrayal of a childhood celebrity I have ever come across. Granted, I'm sure not all childhood celebrities had a great up bringing and some did not handle their status well, but was it necessary to make this character such a dbag?! Cash Carter (apparently his real name is Tom Hanks, but whatever) is nothing but a narcissistic bully and jerk. Everything has to be about him and crushing the dreams of "normal" people around him. He openly uses drugs, pushes said drugs on others, openly has hook up sex with multiple random people in strange cities and brushes it all off like it's no big deal. He is such a bully and manipulator that I wanted to punch him. Hard. Why these four recent high school graduates let him continue to tag along on their last hoorah road trip before they go to college is beyond me. He let his true self be known from the moment he came into the chapter yet they all just put up with it. He guilted them into going to an underage show by using fake IDs, bullied them into feeling bad about the places they wanted to visit on their trip, bullied them into breaking & entering (highly illegal), and bullied them into using drugs. He also makes fun of them for not drinking underage. Are you serious right now? How did this book get published. HOW. He also makes offensive remarks to the other characters (one is transgender, one is gay, and the other two are POC) and it all gets glanced over or ignored. WHAT IN THE ACTUAL.
There was nothing redeeming about this story or the characters. I could not care less what happened to anyone so I stopped listening. I can't believe I listened as long as I did. I know some people really enjoy this story but it is obvious I am not one of them. I am still baffled about how this story was given the thumbs up by editors and published into YA. I was not impressed by Colfer's writing style as it comes across very juvenile. Maybe he wrote this in high school and finally submitted to publishers. Whatever the case, it was terrible and I'm so upset this book is on shelves right now.