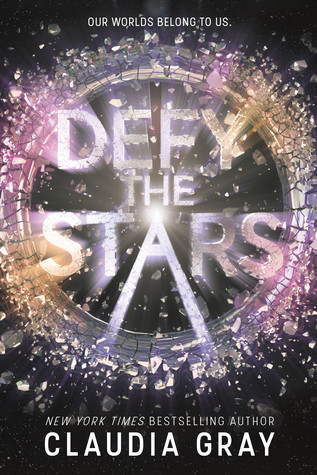 Publisher: Little, Brown Books for Young Readers (April 4, 2017)
Publication Date: April 4, 2017
Genre: YA Science Fiction
Print Length: 512 pages
Available from: Amazon | Barnes & Noble 
*I received an ARC edition from Little, Brown Books for Young Readers in exchange for my honest review.*
Sci-fi is not normally my first go-to genre but Claudia Gray wrote this one so that means I have to read it… right? Thought so. I am a sucker for this author so I couldn't wait to get my grubby hands on it. This was a heck of a ride and I was never disappointed with the adventure.
Short recap: Noemi, a soldier from the planet Genesis, and Abel, a very special and unique mech (think robot) have the most unusual way of meeting one another. Noemi is trained to kill mechs because they are normally bad, but Abel is … different. He can logically think and use rational thought before making a decision. How peculiar. They form an unusual partnership to fix some pretty big problems that if all goes well, could change the way of life for nearly everyone in the galaxy.
These characters were amazing. They were beautifully complex and ever developing, it was refreshing to read. Noemi starts out as a soldier that is willing to die on a flight run in order to help save her planet. Events happen (I am trying very hard to keep this spoiler free…) and she crosses paths with Abel. Abel is a mech (robot-ish) built by a famous mech creator and is completely one of a kind. I enjoyed Abel's character so much that he always had me smiling. If you want to picture Abel, think of AIDAN from Illuminae if AIDAN had a body. The way these two characters grew throughout the story was evident. The banter became easier between them, as did the ability to predict what the other was going to say or do. This story is told in alternating POVs so to be able to read the comparison between how the two think about things was a brilliant move.
I mentioned that I struggled at the very beginning of the story because I felt it was a huge infodump but that wasn't it. I just sometimes have a tough time getting into sci-fi books because I'm afraid I won't understand what is going on when they start explaining things. Gray did a marvelous job of giving just enough information to bring me into the story so it sank its hooks in and never let me go. I tore through this book with a fury because I had to know what happened. From start to finish there is high energy, high tension, and a race to try to stay alive. Gray did a fantastic job of taking me across the galaxy at warp speeds to uncover dark hidden secrets on the path to truth.
There were some thought provoking moments within this story. Gray did not shy away from taking on some pretty big topics: ethics of war, religion and a person's beliefs, and can a mech possess the ability to have free will? Can machines learn to grow and adapt, not just for survival but for their own happiness? How much is someone willing to risk in order to save others?
Overall, I fell madly in love with this story. I was completely invested in Noemi and Abel's journey to do what is right. As I said, I am trying to keep this spoiler free but when I say that ending had me on the edge of my seat… WOAH.  It was perfectly set up for the next book, which it will pain me to have to wait for it. Gray will always have a way of writing sci-fi that is mesmerizing and epic (I don't use that word too often so when I do, it's serious). This book really was the adventure I was hoping it would be. I do highly recommend to everyone so please, go get this book and gush with me about it!