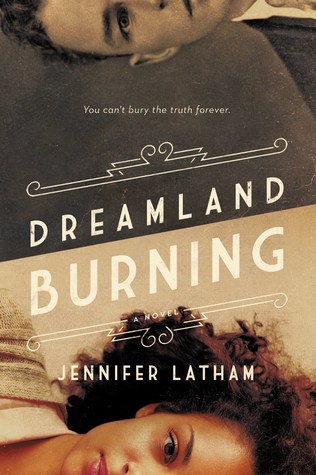 This book was brilliantly done. I am not always the biggest reader of historical fiction books but this story was an absolute joy to read. It was eye opening, terrifying, disheartening, gut wrenching, and real. I loved every minute of this book that read more like a historical mystery.
Short recap: Seventeen-year-old Rowan Chase discovers a skeleton in her family's backyard during a home improvement project. She is determined to solve the mystery of who is buried in the shallow grave that apparently dates back to 1921. What Rowan discovers is horrific events that lead up to the Race Riot in Tulsa, OK in 1921.
I am not lying when I say this book is utterly fantastic. It pulled me in from the first page. It is told in alternating POVs – present day and past day. Present day is told by Rowan and past day is told my Will, the boy from 1921 Tulsa. The way the mystery was presented and laid out throughout the course of the story was expertly done. Normally I can figure out whodunit or what the overall mystery is, but I wasn't able to put the clues together until almost the very end. This was just enough to keep me guessing until the end and when that ending was revealed – WOW. Talk about out not seeing that coming. This was a perfect balance of the author giving enough clues to keep me interested and not over complicating the story.
The characters described within in the story were amazing. Rowan was the only daughter of an African-American mom and White dad. I say that because Rowan's race is a factor in the story. Even though she is living in "present day", she is still battling racism as she does favor her mom. Her family is wealthy and wants for nothing but they still deal with prejudice. I liked her determination to dive into her family history to discover who was buried in her backyard. As believable as Rowan's character is, so are the characters of the past. William is the voice of Tulsa 1921. He is a young white man, who is the son of a white man and an Osage woman. He, as well, had to deal with his share of racism and prejudice. His was not as severe as Rowan's, but he had a lot of compassion for those that suffered in such a difficult time. William befriends two African-American children, Joseph and Ruby, in his dad's music shop. William was able to see just how hard life was for children of color and he became protective of them. The struggles and battles that both Rowan and William went through made me enjoy these characters so much.
The historical setting of this book is really what set it apart from the rest. The setting felt real and unique, without shoving textbook history down my throat. The setting is that of early 1920's Tulsa, Oklahoma. The land run of the early 1900s had just finished and life was starting to balance out a little, but white people and non-white people just did not mingle. I feel this was a point in time that is not normally talked about but it was an important event in history. I was fascinated by the events of the Tulsa Race Riots and I believe Latham did a brilliant job of delivering this story.
You can probably pick up that I enjoyed this book immensely. I loved everything about this story – the characters, the plot, the pacing, the overall story, all of it! It was everything and more I wanted from a historical fiction/mystery story. I could not put this book down once I started it, it was that powerful. Full of complexity and edge of seat thrills, I highly recommend this book to everyone. Please, give this one a chance if you have not already.